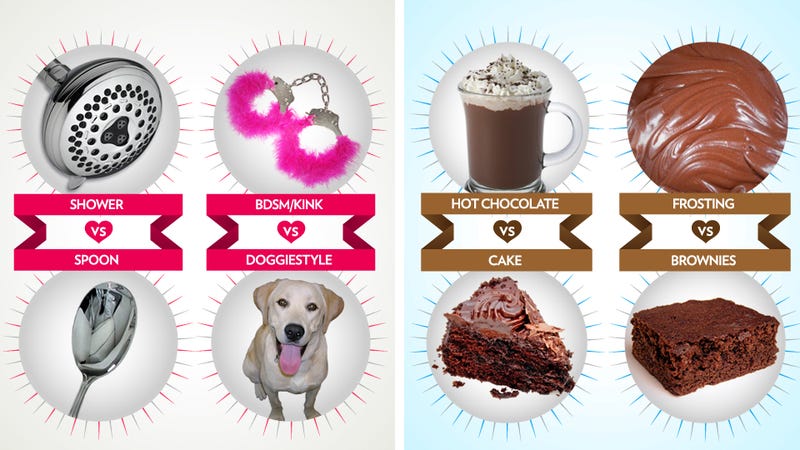 Damn. We'd heard we were living in a world where women strive to be on top! And yet. Missionary beat Cowgirl in yesterday's game. And that wasn't the only surprise.
Of-the-people dessert Ice cream beat elite treat Truffles. It was close — 55 to 44. (Not as close as Missionary vs. Cowgirl, which was 50.42% to 49.58%. As commenter Kaylie Bee wrote, "I can't believe cowgirl lost. You lazy bitches!") And in a twist, adult indulgence Dark Chocolate won over childhood favorite Fudge. No time to cry about what could have been. We have to press on… We're days from the Final Four!
If you're just joining us, click here for a printable PDF of the original bracket, or click the image at left for an updated version. Rules of gameplay can be found here.
Today, we have four fierce matches. In the Sex Conference, it's Shower vs. Spoon and BDSM/Kink vs. Doggystyle. Tough choices, guys. Hot and steamy vs. warm embrace. Handcuffs vs. rear entry.
In the Chocolate Conference, it's pretty epic: Hot Chocolate vs. Cake and Frosting vs. Brownies. So many sentimental feelings! So many childhood favorites! But someone's going down.
You know what to do, people. Vote. VOTE!!!! The polls close at 1am EDT.