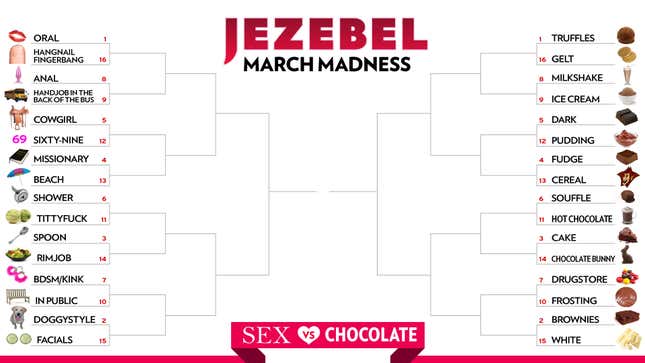 For the past two years, Jezebel has dipped our delicately polished toe into the brackety, braggy world of March Madness, in an attempt to declare once and for all — and by popular vote — resolutions to society's most divisive issues (those not involving gays, your uterus, or Israel, anyhow). The battles have been epic. First, it was Pie vs. Cake. Then, Cats vs. Dogs. This year, we're diving into hedonism: Sex vs. Chocolate. Pleasuremongers, this one's for you.
Click image above to enlarge, or go here for a printable PDF of the bracket.
The either/or of sex and chocolate is a cliché, sure, but it's more than that. It's is an actual "issue" (I use that term loosely), one that has wormed itself into countless debates, marketing surveys, and studies. It comes up again and again and again. It must be stopped. It must be decided. You can't have it both ways; you must either want to eat something awesome, or you want to fuck. And this is not a matter of what you might prefer in a given moment; if you had choose one, forever, which would it be?
It's decision time. After weeks of research and number-crunching, the Selection Committee has determined the sixteen best types of chocolate and sex in their respective conferences, seeded according to bestness. Every day there will be a matchup in both conferences; every day you will cast a vote. And then, finally, we will be left with the Best Type of Sex and the Best Type of Chocolate, facing off for eternal glory. One pleasure to rule them all.
Some clarifications:
For sexual acts that involve a giver and a receiver, value should be defined according to enjoyment as experienced on the receiving end. So, for example, is entirely possible that an individual may not enjoy performing top-seeded Oral Sex, but that he or she very much likes to receive it.
When in question, all entrants are generally considered to be blanket "categories" unless they are super-specific. From the Chocolate conference, Truffles (#1) encompasses all kinds of truffles, from Vosges to Whitman's; Drugstore (#7) covers everything from Hersheys to M&Ms. And Cowgirl (#5) can be simple girl-on-top, or reverse, or any other pervy-fun positions you can think of. But in the case of Hangnail Fingerbang (#16) and Handjob in the Back of the Bus (#9), we mean very specifically those acts and scenarios. The Selection Committee declines to reveal why general fingerbanging and handjobbing did not qualify in favor of these exact scenarios, but it has something to do with complicated algorithms and personal amusement.
The Selection Committee advises that you not waste any emotional energy on debating its decisions regarding inclusion and seeding. The Committee also has ruled that having sex with a piece of chocolate, while technically possible, is not eligible for competition.
Competition starts tomorrow; get your brackets ready and prepare yourselves for battle.
Bracket artistry by Jim Cooke.