Marc Jacobs has responded on Twitter to our story of earlier today covering the fact that the designer does not pay many of the models who work in his New York runway shows, and that he kept a 17-year-old minor working for over 30 hours without paying her a single cent. Jacobs — who is far from the only high-profile New York designer to get models to work for free — says that payment in "trade," or clothes, is standard in fashion and that if models "don't want to work w/ us, they don't have to." [@MarcJacobsIntl]
Related: the New Zealand-born supermodel and Australia's Next Top Model judge Charlotte Dawson just called Jacobs a "douche lord" on the Twitters. Developing! [@MsCharlotteD]
UPDATE: Hasbrook has responded to the story on her blog.
---
Victoria Beckham is on the cover of Figaro Madame magazine. [RCFA]
---
G/O Media may get a commission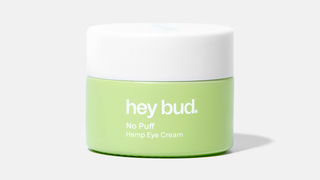 15% off
Hey Bud - No Puff Hemp Eye Cream
Isabel and Ruben Toledo published another book. Reports Women's Wear Daily:
The 384-page book details how Isabel Toledo went from being a child in her native Cuba tuned-in to the stylish ways of the women in her neighborhood to suiting up Michelle Obama for her husband's inaugural. The designer said she has never bought into the ideology that if you attend the right school, know the right people and consequently get yourself into debt, then success is guaranteed. "What I want is to encourage kids to take on challenges and risk especially when you're young and at the beginning of your career. We're too safe," she said. "Risk everything for what you love to do and the rest will follow."
[WWD]
---
Speaking of the First Family, President Obama held a fund-raiser in New York City where the attendees included Michael Kors, Tory Burch, and John Legend. Model Chrissy Teigen, who is engaged to Legend, asked Obama if Mitt Romney was really a robot. Then she Tweeted, "I invited Barack Obama to our wedding. He asked what the date was. I said, 'I dunno, we'll work around you'. I'm drunk and awesome." [@ChrissyTeigen, WWD]

Cathy Horyn picked up the "Raf Simons Was Fired" story. Why, Jil Sander — why? [NYTimes]

Here's your random Christian Dior rumor du jour: Maxime Simoens, 27-year-old soon-to-be-ex-creative director of little-known French label Leonard. Discuss. [WWD]

Meanwhile, disgraced ex-Dior designer John Galliano was "spotted" in Paris, by which we mean apparently he left his house and didn't say anything racist to anyone. He was "walking out of a cafe alone on Rue de Turenne in Paris' Marais district on Saturday night. The designer wore a loose beanie over his trademark long hair, which was left hanging and dyed a lighter shade with blonde highlights. His mustache was trimmed in Twenties, pencil-thin style." [WWD]

Tommy Hilfiger says he is currently reading Freedom and enjoyed Bossypants. The more you know! [92Y]

Karolina Kurkova celebrated her 28th birthday on the night of the Oscars — by having all her friends over afterwards for a pajama party. [P6]

Caroline Trentini married photographer Fabio Bertelt in Brazil. [Made in Brazil]

Today in unframed indictments, Women's Wear Daily met up with Kim Gordon:

So how does she feel about being called a fashion icon? "Um…" she paused, looking as if she had just swallowed a fly. "Strange," said Gordon, before heading off to pose for pictures.

The party was to celebrate Gordon's new 12-garment capsule collection for the label Surface to Air. [WWD]

"...'Philophiles,' as many call this new style species, are the droves of women who wear the Céline label with ardor..." Someone really ought to police Times Style writers' use of "many." [NYTimes]

Plus-sized model Robyn Lawley says she eats when she's hungry, and stops eating when she's full. [WWD]

Diane von Furstenberg launched her hotly anticipated Gap Kids collection in Los Angeles. [Style.com]

Police have busted a $325 million counterfeiting ring, arresting 29 people. The subterfuge was double-fold, reports the Times: fake Uggs were shipped to New Jersey, and cleared customs with generic labels and fake soles that had generic tread. Then, at a warehouse, people peeled off the generic labels to reveal counterfeit labels that read "UGG," and took off the generic tread to reveal new soles that mimicked Ugg's signature tread. [NYTimes]

Authorities in Houston seized a shipment of counterfeit Estée Lauder perfume valued at over $300,000. [WWD]

Christian Louboutin says he always has the feeling that at fashion shows, people are "praying" for one of his shoes' heels to break. [WWD]

And now, a moment with Vogue. Vogue, what's up with my fashion week aura?

With dozens of runway shows yet to go in Paris, you may need more than a good night's sleep to make it through the next five days — starting, of course, with a quick fine-tuning of your fashion-week aura. "Your energy is confused, like a TV screen that's gone static," pronounced Junnon Sawamura-Mérigoux — the Hong Kong–born, Paris-based holistic practitioner who has won the loyalty of editors, actresses, and everyday Parisiennes — the other day before the Balmain show.

[Vogue]