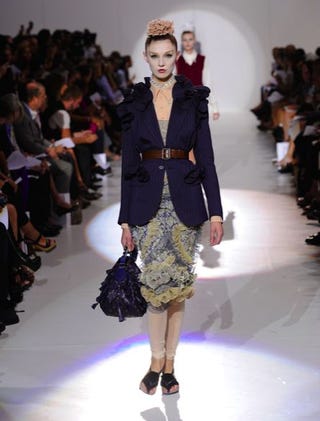 Marc Jacobs could only offer platitudes about his collection to reporters last night at the Lexington Avenue Armory. "Life is a cabaret," he said. "All the world's a stage!" But the heavily Japanese-influenced clothes evidenced far more original thought.
I guess, speaking of clichés, it's become one to note what time Jacobs' shows start, since the debacle of two years ago. This show kicked off at a couple minutes past 8, even though guest of honor Lady Gaga hadn't graced the front row with her presence. (She was let in, late.)



As you can see, ruffles were a theme of the collection. But they weren't treated as pretty-pretty trim, but rather as something more sculptural. There were thickly ruffled rompers and mini-dresses, and ruffles standing stiffly at the hems of skirts. Ruffles took on dimension. This pantsuit wears its ruffles like Rei Kawakubo of Comme des Garçons.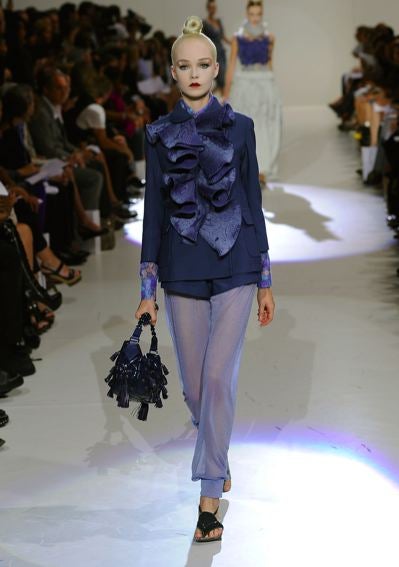 Many of the looks were worn with organza pants the likes we haven't seen since I Dream Of Jeannie was on the air. We sense a coming trend, for better or for worse.



However, that's all part of the larger theme of lingerie, and layering — what goes underneath and what goes on top — which Jacobs loves to toy with.



It was also lovely to see his old staple, the long, full prairie skirt, done with a sharply tailored military jacket.



And I cannot wait to wear a (slightly longer) version of this ensemble, come spring.



This one, not so much. But I love the torsolette.



Because this is Marc Jacobs, of course there would be plaid. Only this time, it's studded with pearls.



This handkerchief-hem dress actually has pearls at the joins between the points on the bodice. Others have already pointed out that the reference is to legendary 1970s designer Zandra Rhodes.



And don't you just love the pearls at the collar points?



Ruffles also turned up on a number of lovely longer dresses.



Like this one, modeled by Jamie Bochert.



One unflattering jumpsuit got the same treatment.



And in any show, there's always that one look that makes you recoil. This was the one point where Jacobs' aesthetic tended towards the girlish, the unfinished.



But sticking to the tailoring, to the inspiration of Kawakubo and Kabuki theater, Jacobs looked right on the money.



And certainly never less so than with this ethereal confection.