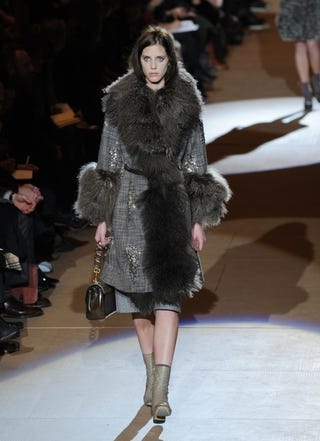 Marc Jacobs is known for doing grungy and purposely ugly clothes, and has said: "My clothes are not hot. Never. Never." But his muted yet sparkly collection for fall 2010 had a restrained sex appeal, despite the frump.
The collection was predominantly brown and gray, yet some pieces — like this exquisite coat — managed to be head-turning and bomb-shell worthy.
Of course, MJ has to add glasses and granny boots to hammer the "unsexy" point home. But this coat, with its exaggerated collar and cuffs, is gorgeous.
A sumptuous retro-inspired coat, straight out of an Erté illustration.
The collection is not for PETA supporters: In addition to fur coats, there were bags of fur, ostrich and crocodile. Re: The socks. It doesn't matter how I feel about them. Looks like we're in it for the long haul.
It's cool how he breaks up a monochromatic effect by using different textures and patterns.
That said, I find a lot of it sooooo boring. Like this ensemble. But fans of Marc Jacobs will recognize this is as a classic, pure interpretation of his aesthetic.
Victoria Beckham and Charlotte Gainsbourg should both order this look ASAP.
I referenced His Girl Friday last week, and must do so again: This coat reminds me of the one worn by "ace reporter" Hildy Johnson (played by Rosalind Russell).
Do we like thick, structured wool over a diaphanous dress? Or does it look like the poor thing has left the house and gone to work in her nightgown?
I'll admit that even though I dislike brown clothing, this dress is phenomenal. Simple, yet chic, sophisticated and easy to wear.
A bag destined to be a hit, even with the hefty price tag they'll slip on it.
Reminiscent of Faye Dunaway in Network. Mad as hell and off to get a latte.
Classic MJ frump. Do not want!
Proving that a skirt can be see-through and not sexy at all.
All of these frumpy bland-colored pieces just bore me.
This shimmery coat is pretty great.
Finally, some color in a somber palette — unfortunately, it's hard-to-wear mustard. Still fascinating that it's a very specific hue, unique to this collection.
Laid-back elegance.
The cut and flowers make this seem like someone took a Vintage Marc dress and dipped it in silver.
Absolutely stunning, totally sexy — though not in an overt way.
Buttoned-up, but playful.
Dreamy and billowing? Or awkward and rumpled?
Winsome watercolor or wretched wallpaper?
[Images via Getty.]