There was a big push this fashion season on the part of the Council of Fashion Designers of America, the professional organization of the top American designers, to get New York designers to not use models under the age of 16. Several brands and at least one agency chose to flout this guideline, which was the centerpiece of the CFDA's seasonal letter to its members, and which was (like most of the modeling industry's attempts at self-regulation) entirely voluntary. Perhaps nobody flouted the restriction more unabashedly than Marc Jacobs — who sits on the CFDA's Board of Directors, and to whom the organization gave its 2011 Lifetime Achievement Award — who knowingly put two 14-year-old girls on his runway, and defended himself in the New York Times on the grounds that using only models over 16 impinged on his creative freedom. The Times ran two stories in as many days fairly excoriating the designer for hiring the 14-year-olds.
But there is another, less-publicized, provision of the CFDA's model age guidelines: the organization also asks that designers who hire minor models under the age of 18 not keep those girls working past midnight. According to model Hailey Hasbrook, who worked over 30 (unpaid) hours for Jacobs during New York fashion week, the designer violated that, too.
Hasbrook, who turned 17 in January according to her Tumblr, is a high school junior from Oregon. During this NYFW, she walked for Marc Jacobs, Proenza Schouler, Theyskens' Theory, Marc by Marc Jacobs, Lacoste, Victoria by Victoria Beckham, and Houghton. That's a big debut for a model. On her blog, she also describes doing looks for Reem Acra, shooting a video for Lacoste, and working various photo shoots; again, typical for a successful new face during fashion week. These long hours are just one reason why the CFDA recommends that girls under 16 not work fashion week: the shows last a month, which often has the effect of forcing these girls to make an uncomfortable choice between staying in school and pursuing their careers, and while some underaged models are chaperoned (Hasbrook says her mother traveled with her to New York), many girls — especially the majority of models who come from poorer countries — are not so lucky, and work unsupervised. No organization currently conducts background checks on the adults who work with minors in the fashion industry.
Hasbrook, when asked by Women's Wear Daily about the kind of hours she worked during New York fashion week, replied:
One night I did looks for Marc Jacobs from 6 p.m. to 2 a.m., and then the next day I was there until 4:30 in the morning. And I had Theyskens' Theory the next morning with an 8 a.m. call time.
G/O Media may get a commission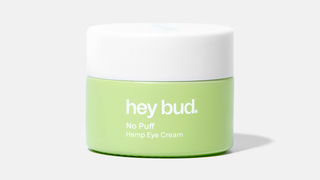 15% off
Hey Bud - No Puff Hemp Eye Cream
On her own blog, Hasbrook explains a little bit more about her work for Jacobs, which began on Saturday of NYFW. She said that at Jacobs' casting, "I got to meet him and everything, which was pretty cool," and that her other appointments and fittings for the day were cancelled when the designer requested her to do looks for him.
Doing looks means that I am kind of like a live mannequin in a way. They try all the garments and looks on me to put together what they are going to use for the show...Despite the long hours it was actually a lot of fun.
From 6 p.m. to 2 a.m. is a solid nine hours of work — and it's a shift that ends two hours after midnight, when minors like Hasbrook are supposed to be permitted to go home. Then, on Sunday, Hasbrook writes:
Sunday was a VERY hectic and LOOOOONGG day…..

It started with a casting for Rodarte at 11:00 in the morning.

Then, I had MORE looks for Marc Jacobs. The SCHEDULED time was Noon-4:30. They ended up keeping me until 6:00, though, causing me to have to switch around my schedule and cancel some things.
Hasbrook eventually left to go to another job — looks for Reed Krakoff — but she ended up getting cancelled from the gig (after spending $20 on a cab) because Jacobs had kept her so long. Then, the same evening, she went straight to another casting.
I get a call from my agency saying Marc wants me BACK to do more looks. They told him that I would do it but I had to have an early night because I had shows early the next morning. They told me that I shouldn't be there any later than 10:30.

Well, 10:30 rolls around and I ask Shawn if he knows when I will be ready to leave. Only to find out that they have me booked open-ended. Meaning that they had no specific end time for me. After a couple phone calls, they decided on 2:00 am.

Well, 2:00 rolls around…. I hadn't been trying things on for a while so we all thought I would be good to go. I go and start to get dressed only to be called for in the other room by Marc.

I didn't end up leaving until around 4:30 in morning.
That's another 14 hours of working just for Jacobs. For her efforts, Hasbrook later booked both the Marc Jacobs and Marc by Marc Jacobs shows.
What was she paid for her 23 hours of doing looks, plus her 6-8 hours of working in Jacobs' two shows? Not one cent. A reader of her blog asked what Hasbrook — who writes that she is currently living on an "allowance" from her agency, Elite, debited from her account as an advance against her future earnings, which is typical in an industry governed by bizarre economics — is actually making as a model. And Hasbrook answered:
Not entirely sure. But for some things, like all of the Marc Jacobs stuff I did, I got trade, not cash.
"Trade" is clothing. Hasbrook told WWD that Jacobs gave her a bag, dress, jacket and shoes. Designer clothing is nice, but you know what's even better? Getting paid for your work. It's also kind of heart-breaking — but not surprising — that Hasbrook is working so hard even while she's ignorant of her earnings; many models don't feel comfortable talking about money with their agencies, where there is generally little separation between the accounting department and the bookers, and the fear (and the potential consequences) of alienating your agency by being "difficult" or asking too many questions are very real. Models are often in the dark about money matters for more prosaic reasons too: most of them are very young, and many haven't mastered English.
Jacobs is just one of many New York designers don't pay their runway models; this reality means that girls can become ubiquitous for a fashion week, working for some of the most high-profile names in the business, and still end the season heavily in debt to their agencies. All those weekly advanced "allowances," plus travel expenses between the four main cities (New York, London, Milan, and Paris), accommodation, Fed-Ex, card printing, miscellaneous agency promotional expenses, those $20 taxi fares — they add up.
Not paying runway models is bad enough. But designers not paying their looks models — the girls who spend hours in the studio, doing the unglamorous work of trying on all the garments produced for the collection in however many combinations the designer and stylist deem necessary, performing the emotional labor of working swiftly, professionally and smilingly while a stressed-out design and production team inch closer to killing each other, all absent any explicit promise that their behind-the-scenes efforts will translate into a booking for the much more prestigious runway gig — that's news to me. When I modeled, doing looks during fashion week was how you earned money to make up for all the magazine editorials, shows, presentations, and myriad other modeling jobs you had to do for free or for trade. Now the looks are for trade, too? That's bullshit. Working for free for Marc Jacobs — a company that's majority owned by LVMH Moët Hennessy Louis Vuitton, the world's largest luxury conglomerate? That's complete and total bullshit.
LVMH made a net profit of $4.13 billion last year. When the conglomerate reported its 2011 financial results last month, it revealed that its revenue grew by 16% over 2010's levels, to €23.66 billion, or $32.94 billion. Louis Vuitton, the other LVMH-owned brand Jacobs designs for, experienced another year of double-digit revenue growth; analysts put its total revenue at €6.5 billion, or $9.05 billion.
And Jacobs has been handsomely rewarded for his services to his parent company. Last year, WWD reported that he and his business partner, Robert Duffy, receive salaries and benefits that "place them among the highest-paid designers and fashion executives in the world." Jacobs' talks to take over the creative directorship of Christian Dior reportedly broke down after he and Duffy asked for $10-million-plus salaries each. And this is the guy who's having high school students from Oregon work for him for free?
Hasbrook is careful to point out that the long hours weren't "that bad," and that Jacobs and his team were "super awesome and nice." She writes, "It was actually quite fun to be there with everybody despite the exhaust [sic] by the end of the night. Plus it was all totally worth it."
Models are generally considered independent contractors under U.S. law, which means that many basic provisions of employment law — including minimum wage, mandatory breaks, worker's compensation for injuries on the job site, and even protection from sexual harassment — do not apply. High-profile New York designers can offer models as little compensation as they please, because there is no law or regulation that forces them to do otherwise. That's not the case in France, where models are generally considered employees (and where girls under 16 are legally barred from runway work). When Marc Jacobs shows his Louis Vuitton collections in Paris, he pays his models, because the law says he has to.
UPDATE: Marc Jacobs has responded, stating via Twitter: "Models are paid in trade [clothes]. If they don't want to work w/ us, they don't have to."
UPDATE 2: Hasbrook has responded on her Tumblr. She says working for Jacobs was "actually one of the favorite jobs I have had so far," and that the designer and his employees treated her well. "I actually preferred to be paid in trade," she says. "I love everything that I got, and it was well worth it."
Model Call: Hailey Hasbrook [WWD]
Hailey Hasbrook [Tumblr]