If you follow designer Marc Jacobs' love life, then you probably know all about his tumultuous affair with Jason Preston, the former male prostitute/druggie who used to party with the likes of Lindsay Lohan. And despite the fact that Preston has Jacobs' logo inked on his forearm, the two seemed to be in perpetual off-and-on mode. But now that they're both sober, Jacobs has decided to step up to the plate and make an honest woman out of Preston by presenting him with a Cartier ring. Initially we had the Amy-and-Blake reaction like, "Nooo! He's not good enough for you!" But then we read an interview with Preston in the gay mag HX and we've done a full 180 on our thoughts about him. We love him the way we love Mariah Carey. And in fact, Preston recently got a new tattoo, "Mariah," scrawled across his rock-hard abs! When asked about it, he said:
I grew up loving her, and now that I know her, I love her even more. I know I'll never regret it, so that's why I got it.
Suddenly "We Belong Together" has a whole new meaning for us: That of an undying love between a high-end designer and his rent-boy muse. And actually, Preston doesn't take the task of being a muse all that seriously:
He'll show me sketches and I'll be like, "That's dumb" or "That's pretty"—shit like that.
People have said some nasty shit about Preston, that he's a gold-digger or whatever (but to be fair, people pretty much universally feel that way about hookers), but he doesn't let it get him down:
There are always going to be haters out there and it's not going to stop me. I like to think that it's jealousy-who wouldn't want to date Marc Jacobs? Whatever, those people are stupid.
G/O Media may get a commission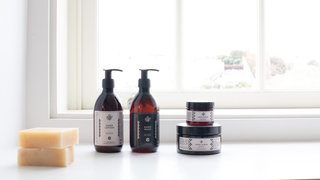 Exfoliate and Hydrate
The Handmade Soap Company
On how the engagement happened, Preston says:
We always say crazy retarded things, but a couple of weeks ago he came back from shopping, looked at me and said, "You promise to love me and be with me forever?" I said, "Yes."
But our favorite thing out of his mouth:
Wouldn't it be fierce if my bridesmaids were Mariah, Naomi Campbell and Lindsay?
1st Lady of Fashion [HX via PerezHilton]