"I'm trying to connect the God particle, the Higgs boson, with dark energy - you know, the thing that makes the universe accelerate. This sounds a bit egomaniacal, but to understand dark energy, I think we have to be open-minded about Einstein's general relativity."
A person who says things like this in conversation is not the typical victim to fall for the ol' fake Internet girlfriend trick, but theoretical particle physicist Paul Frampton, a professor at the University of North Carolina who's affiliated professionally with three Nobel laureates, was sentenced to 4 years and 8 months for drug smuggling in November. He continues to claim ignorance, as reported in this NYT Magazine piece that details the story.
The story begins when Frampton, who is divorced, meets and corresponds with a Czech model named Denise Milani on the Internet. She asks him to meet her in Santiago, Chile, and sends an e-ticket to Brussels, where she's been called on a bikini shoot—the e-ticket ends up being invalid. Despite this, he persists, and on his stop in La Paz, Bolivia, Milani asks him to bring her a suitcase that she left there. The plain black bag has "sentimental value," she says.
Frampton talks to a physicist friend who warns him against carrying weird bags to strange Internet women. He does not listen—his friends say that although he's brilliant, he only has a passing acquaintance with the real world. (His ex-wife says that he has "the emotional intelligence of a three-year-old.")
When he's unable to get in touch with Milani after 15 days, he finally heads home to North Carolina, but takes her bag with him just in case she ends up needing it. Sure enough, airport security found 1,980 grams of cocaine in "Denise Milani's" suitcase, and Frampton was jailed despite his claims that he was unaware of what he was carrying.
G/O Media may get a commission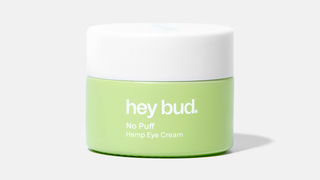 15% off
Hey Bud - No Puff Hemp Eye Cream
Despite the Brokedown Palace trope of American travelers being duped into drug-smuggling and ensnared in foreign jails, the U.S. Drug Enforcement Agency argues that it's very rare. Whether Frampton did it for Milani or for money, their spokesman says, he was almost certainly aware of the hidden contents of the suitcase.
Frampton himself acknowledges this: "Some people will say they're innocent, but when I talk to them further, it becomes clear that they were somehow involved. I think people like me are less than 1 percent." However, a series of more than 30 texts that Frampton sent Milani work against him.
"On Jan. 22 at 9:46 a.m.," he said, "you wrote from Ezeiza airport to the person you understood to be Denise Milani: 'Was worried only about sniffer dogs but more.' " As his interrogation of Frampton continued, he read other text messages sent from Frampton's phone. One at 9:52 a.m.: "Need to know if your loyalty is with the bad guy-agent & bolivian friends - or good guy, your husband?" And another at 9:56 a.m.: "SIRU" - the Hotel Siru, where they were planning to meet in Brussels - "IS AMBUSH." 10:14 a.m.: "Your naivety is bad for me, us. This is millions. NO SIRU, OK?" At 11:19 a.m., Frampton sent Milani an e-mail: "This stuff is worth nothing in Bolivia, but $Ms in Europe. You meet me at the airport and we do not go near the hotel the 'agent' suggested. Stay at another hotel." At 11:47 a.m., there was another text message: "Monday arrival changed. You must not tell the coca-goons." At 12:16 p.m., he wrote: "WHY ARE YOU IGNORING ME? AT THIS LAST MOMENT. WE DID NOT DECIDE HOW TO MEET TOMORROW IN BRUSSELS AND KEEP COCA & LIVES. AT SIRU WE MAY LOSE BOTH!!" At 1:06: "We may do cool 1,000,000."
Frampton says that these text messages are jokes. Additionally, he wrote a calculation on a piece of paper:
1 gram 200 dollars
2,000 grams 400,000 dollars.
He tells the NYT reporter that he made these calculations after he was arrested. He also adds that he obsessively calculates both mundane and emotional elements of his life (e.g. the statistical probability that Milani would become his wife, as well as the weight of one of the judges).
Despite all this, it was not for some time in jail before Frampton began suspecting that his Denise Milani was a fraud. Sure enough, the real Milani, whose photos were used to engage Frampton, was interviewed in the Daily Mail in August. She regrets that she's now affiliated with drugs in any way, and expresses sympathy for Frampton, who has since hired private lawyers.
Extreme Catfish: Home Edition.
'The Professor, the Bikini Model
and the Suitcase Full of Trouble' [NYT]