Imagine our absolute delight when we saw that this week's Page Six Magazine had a big, juicy profile on our favorite evil "mentor" Mandie Erickson from The Fashionista Diaries. Oh, and it's a good one, too! The headline asks, "Is This the Most Hated Woman in New York?" Well, judging by the piece, writer Maureen Callahan sure as shit doesn't like her. She calls out Mandie for lying about her age (she says she's 29, but really she's 32), how bullshit it is that she criticizes her employees' personal style until they cry ("[Mandie] wears no makeup and an array of unremarkable black dresses"), and brings up Mandie's mysteriously-shriveled left hand "which seems to have suffered some kind of permanent injury, but when asked about it she replies, 'I don't know what you're talking about.'"
But her gimpy hand isn't her only handicap. Mandie — once a victim of grade school bullying, who even had a pair of her Guess? jeans flushed down the toilet — "draws no through line between being bullied as a child and the almost reflexive tendency she has to belittle others—what she calls 'constructive criticism.'" Which, actually, we love because it makes it so much more fun and guiltless to hate her. Ooh, and Jezebel got a shout out in the piece, too!

Her tendency to grimace, sneer and eye-roll led to many unappealing facial expressions freee-ramed on Web sites like Jezebel, whose editors dubbed her "C—t Face."

Seriously, it was our pleasure to take those screen grabs. And Christ, if Mandie Erickson isn't a cartoonishly evil. So you know what we had to do. Below are quotes straight from the horse's mouth.
G/O Media may get a commission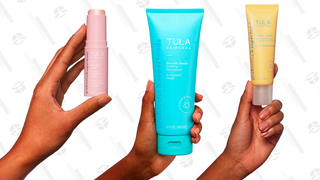 But our favorite quote of the whole damn thing came from Mandie's Kabbalah teacher Ruth Rosenberg, who didn't watch the show. "I don't think Mandie is that [way]. And if she is, she shouldn't be."