A district court judge has issued a temporary injunction barring the disclosure of the personal information of employees of a Washington strip club after a man attempted to obtain the info so he could pray for them. Right.
Earlier this month, dude who sounds like he nervously made his name up on the spot, David Van Vleet filed court papers with the public auditor's office in Pierce County, Washington in order to obtain the entertainment licenses of 70 employees at a local strip club. The licenses, which are required by state law for any dancers and cost $75 include the dancers' real name, stage name, photo, description, and address. His reason, via Huffington Post:
"I would pray for those dancers by name…That is one of many protected reasons.
"I'm a Christian…We have a right to pray for people. I was trying to do something for the public good."
Of course he was. The auditor's office is required to release the licenses under the Public Record's Act, but auditor Julie Anderson decided to inform the 125 license holders about Van Vleet's request. An unnamed strip club manager and an unnamed dancer then sued Pierce County in order to block the release of the licenses.
"They have an enormous privacy interest and not disclosing their identity," Jenn Kaplan, who represents the dancers, told KING TV. "Many of them have suffered domestic abuse, many of them are trying to prevent people from knowing their whereabouts."
G/O Media may get a commission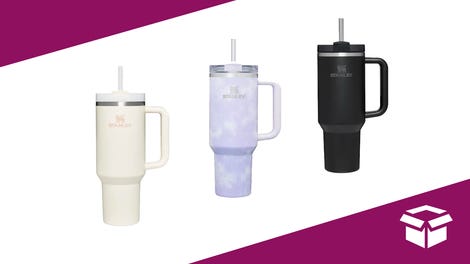 Up to 45% off
Stanley Cup Sale
US District Judge Ronald B. Leighton agreed, acknowledging that there was nothing that blocked the release of the names, but issuing a preliminary injunction to block them anyway, something, that Van Vleet found to be a gross violation of his constitutional rights, via Raw Story:
"He essentially silenced 7 million people in the state of Washington to protect 70 peoples' so-called right to privacy who dance on a stage naked," Van Vleet said after the hearing.
Actually the judge silenced one person in the state of Washington who was creepily clamoring to get his hands on the personal information of people that he targeted because he disapproves of their occupation, but maybe I am just being picky. And something tells me that he didn't feel so compelled to obtain their addresses strictly for prayer purposes. But maybe I've been doing that prayer thing all wrong.
Image via King 5 News.