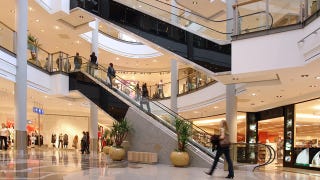 Apparently scientists in Montréal no longer need to put rats in a maze to conduct experiments, because they have shopping malls. Bonnie Swaine and Eva Kehayia, researchers at the Centre de recherche interdisciplinaire en réadaptation du Montréal (CRIR), turned the Alexis Nihon Plaza shopping center into a "living laboratory." According to the Montreal Gazette, "Kehayia and Swaine note that 17 per cent of Quebecers deal with some kind of physical handicap (48 per cent of those over age 65), so public spaces need to be better designed to accommodate them." What do these accommodations entail? Well, the researchers will be testing:
Smart wheelchairs that can be programmed to take a person from one specific shop to another while avoiding obstacles.

Thermal cameras that can detect human traffic patterns so researchers can pinpoint problem areas.

The efficacy of software designed to help the cognitively-impaired navigate a virtual grocery store.

Transmitters and receptors that tell visually impaired people what stores and services are nearby and how to get to them.
It's true that malls can be confusing for anyone, and it's a good idea to improve conditions for visually impaired people or those with limited mobility. But how long until lazy people start taking over those smart wheelchairs? We're all going to end up with atrophied limbs, like the folks inWall-E, I just know it.
Malls adjust to their aging clientele [The Gazette]
Malls Adjust To Aging Clientele [HuffPo]