Who knew women's tennis was such a frothing font of drama? Yesterday, it was period talk; today, lots of people are annoyed because a presenter at the Australian Open asked one of the top female tennis players in the world to "give us a twirl" and show off her outfit. Good grief.
Time says that Twitter blew up with accusations of sexism after the supremely awkward moment. Here's what happened: Channel 7 reporter Ian Cohen was doing a quick post-match interview with Eugenie Bouchard (who's ranked number 7 in the world for women's tennis). And he had a request: "Last night, you tweeted that loved Serena's outfit. Obviously the flouro is working for you girls at the moment. She was kind enough to give us a twirl. Can you give us a twirl and tell us about your outfit?" Bouchard's mouth fell open and she responded with a slightly befuddled "A twirl?" before cooperating.
She played the incident off in a presser following the match—"It was very unexpected," she said, adding: "I don't know, an old guy asking you to twirl. It was funny." (Ouch.)
Serena Williams, who was also asked to twirl, didn't come right out and call the request sexist but pushed back a little more. Via the Guardian:
"A commentator asked me to twirl. I wouldn't ask Rafa or Roger to twirl. Whether it's sexist or not, I don't know. I can't answer that.

"I didn't really want to twirl because I was just like, you know, I don't need all the extra attention. But, yeah, it was fine.

"I don't think and look that deep into it. Life is far too short to focus on that. We have so many other problems we want to deal with that we should focus on. Whether I twirl or not, it's not the end of the world. It's about being positive and just moving forward."
G/O Media may get a commission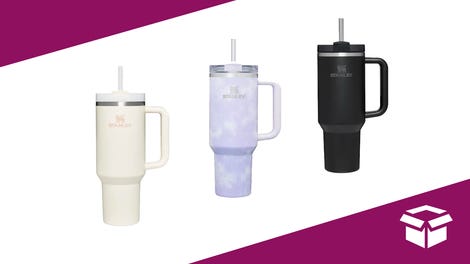 Up to 45% off
Stanley Cup Sale
Nobody else would ask Federer or Nadal to twirl, either, and that's precisely the point.