Maybe it's just me, but I don't pick up Allure anymore unless one of my favorite actresses is on the cover. Seeing that I have few favorite actresses anymore under the age of 40 and with a Conde Nast-approved Body Mass Index of under 20, this means I pick it up, say, once a year.
The magazine is a snooze (or maybe it's that I've just gotten older), with pages upon pages of what is essentially advertorial and the stray, insightful article by some smart writer from another Conde Nast magazine. The February 2007 issue, however, seems to be different. At first. After all, there's cover girl Julianne Moore, who I believe, is both over 40 and with a BMI well over half that number. And I'm liking the clumpy-mascara look on the cover photo, despite Allure's claim that the majority of the makeup used by Gucci Westman on Julianne was made by Revlon, one of Julianne's employers. [For those who don't know this already, women's magazines lie about stuff like this]. I'm also enjoying the fact that two of the magazine's staff contributors — Elizabeth Einstein and Lindsy Van Gelder — admit upfront in their contributors' bios that they don't really care that much about makeup or getting facials. Brava, girls! For the next step in your recovery might we suggest a public admission that you think Ron Perelman is a short little pig?
Things, unfortunately, go downhill from here. In her editor's letter, Linda Wells recounts what she undoubtedly feels is an illuminating story about a friend, Jane, who turned up at a party wearing black velvet shorts with tights, platform shoes and a flowy white top. The lesson to be learned? Well, Linda's point is that when you wear an outfit with confidence, it will undoubtedly look "right". Fascinating stuff, that is.
Onward and downward. I'm intrigued by the Sarah Van Boven feature on women with serious hair loss, mostly because of a not-so-blind item in an essay in this book by a former Allure editor (and, full disclosure, a former boss of mine) that seems to imply that Linda Wells herself suffers from such an ailment (and may even wear a hairpiece). Why this has never made the gossips, only Richard Johnson knows.
G/O Media may get a commission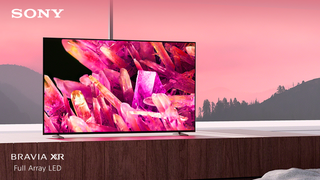 $400 off
Sony 55 Inch 4K Ultra HD TV X90K Series
Page 120: Allure reports that two professors at USC have concluded that celebrities have a tendency towards narcissistic traits that lead them towards the limelight, "rather than vice versa." Pages 121-181: A spa directory package (yawn); a feature on shimmery eye-makeup (written by poor Elizabeth Einstein, who, as you'll remember, admits up front that she couldn't care less about cosmetics); a feature on hair accessories with NO PRICES ATTACHED; a story on happiness by Rebecca Mead (you're slumming it, girlfriend); and a fashion feature on spring-y, flirty frocks with again, NO PRICES.
Last up, the story I've been waiting for: the Julianne Moore profile by Kevin Sessums. Kevin, who used to write puff pieces for Vanity Fair, seems to have acquired an edge in the ensuing years, as he all but calls Julianne old within the first paragraph:
"There is something about [NYC's Broadway district] on such a morning that can remind you of a woman past her prime but still beautiful. At least that's the image that comes to mind before I open the stage door of the Music Box Theatre, and a fresh-faced Julianne Moore comes bounding down the stairs to greet me."
But Sessums makes up for his diss - and recalls the good 'ol Vanity Fair days - in the very next paragraph with agonizing pronouncements like these:
"...her mass of unbrushed curls, the color of a rusty sunset."

"...as if captured in one of those luminous closeups for which she has become known."

"She is the kind of actress whose otherworldly beauty onscreen, glazed both by life and lighting, can't quite mask her earthiness."
Will someone put Kevin Sessums out if his misery already?
Overall Grade: D-