Early morning. Me wake up. Knock knock knock—the pee in my bladder.

8:15am
Alarms don't work for me. I regularly sleep through them only to finally open my peepers once I have to whiz so badly that I'm about to get a UTI. I stumble to the bathroom and relieve myself and once I'm there, why not wake myself up with a splash of icy water to get the sleepies out of my eyes? And while I'm doing that, why not just wash my entire face? For the past couple months, I've been using Cosrx Low PH Good Morning Gel Cleanser, which I like a lot. There's witch hazel in it so it smells like it's working and I genuinely think it is because my skin is definitely brighter and clearer since using it. Afterwards, I follow up with Milk Makeup's Matcha Toner. It's good for morning because it's fairly moisturizing, allowing me time to dink around my apartment for a bit before putting on my actual moisturizer/SPF.
11:30am
I have successfully dinked around: Breakfast has been eaten, coffee drank, and handful of blogs edited and scheduled to go up on this very website, Jezebel.com. It is time to prepare my face to greet the world, a process I admittedly love. I know there's the cliché of women calling their makeup "war paint," but I find it more meditative than fortifying. It's a moment to slow down and take a sort of zen comfort in a daily process that's almost always the same. Having already cleansed and toned, I apply my moisturizer with an SPF—the CeraVe one that you can find at pretty much any Walgreens. I've also recently bought the MISSHA brand Mild Essence Sun Milk SPF 50, a product with a name that makes me want to barf, but that worked very well on a trip to Florida where I didn't get a sunburn despite being out in the sun all freakin' day. To smell good, I dab a little bit of Attar Bazaar oil in Tunisian Amber on my wrists and neck—it's the same scent my mom wore when I was growing up so it reminds me of her.
G/O Media may get a commission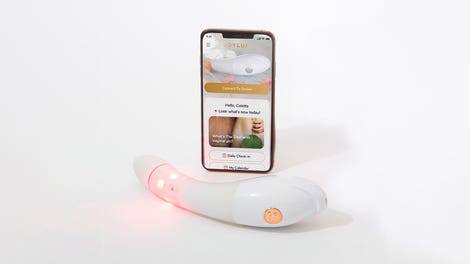 $50 Off
Joylux vFit Gold Device
I've been eschewing foundation for the past couple weeks, not for any real reason other than I just don't feel like wearing it. Instead, I've been relying on NARS Radiant Creamy Concealer, which I dot along my T-zone and under my eyes. Once done, I gently pat the tiniest amount of Glossier Cloud Paint in "Puff"—a cool pink—on the apples of my cheeks (in the summer, I switch to "Beam," which is more coral in color). Lately, I've also been using a more concentrated amount of "Puff" on my eye lids, which I actually like a lot more than Glossier's actual eye shadows. Sticking with the brand, I apply Boy Brow in brown to my eyebrows. I'm very fair, so if I don't fill in my brows or use mascara, my features all blend into one rosy-tinted, beige smear. Next, I apply a brown Sephora-brand eye liner followed by Maybelline's Colossal Big Shot mascara in black. Mascara, I've found, is among the few cosmetics where the drugstore brands is as good if not better than the mid or high range options. Does this budget-friendly option make up for the hundreds of dollars I've spent on other makeup and skincare products? Not even close, but I have made peace with that. For an extra glowy boost, I put Milk Makeup Sunshine Oil on the bridge of my nose, cheek and brow bones, and anywhere else that needs an extra bit of moisture.

Leaving the lips for last, I typically throw on a swipe or two of Clinique's Almost Lipstick in miracle tint "Black Honey." It's a good alternative for someone who wants a little color, but maybe doesn't feel comfortable in full lipstick and it looks good on practically everyone. After all that, this is what my face looks like when I finally get on the train to head to the office:

6:00pm
Almost done with work for the day, I run to the bathroom to freshen up before going to meet my boyfriend for no other reason than that we're meeting in public. He has seen me in my most disgusting state on multiple occasions, including a night where I couldn't stop barfing and tried to martyr myself by sobbing myself to sleep in the bathtub. I tell you this to demonstrate that yes, he's a real mensch, but mainly to make clear that he makes no demands on my appearance and if he did, I probably wouldn't date him.
In the restroom at work, which is multi-stall, I'm pretty sure a girl is trying to poop and feeling shy about it, so rather than make her clench while I fix my face, I head back to my computer and instead touch up my makeup using my laptop camera in the Photo Booth app. This means reapplying concealer to the dark circles that have bloomed under my eyes throughout the day. My makeup has held up pretty well, especially considering the poor treatment I put my face through, all because my brain has decided to make us live in Trash City (a.k.a New York) where the air is full of pollutants and I'm somehow constantly in a cold, greasy sweat.
8:30pm
I do nighttime showers for two reasons: my previously detailed troubles with waking up in the morning being the most pressing and also because I'll occasionally take very sweaty yoga classes after work. While I'm generally comfortable stewing in my own filth, my skin is not and my back is prone to breakouts.
For that, I've been using Cetaphil's Gentle Foaming Cleanser, a product I bought by accident, but has fortunately worked out great! Another annoying skin thing I deal with mainly in the winter is an exceptionally dry scalp that reacts poorly to most shampoos, including those meant to target my exact problem. And so I invested in some Christophe Robin products, which aren't cheap, but are effective enough (more so than anything else, at least) to be worth it. Once a week, I use the Cleansing Purifying Scrub with Sea Salt—an exfoliator for the scalp—and the rest of the time, I use the Purifying Shampoo with Jujube Bark Extract. I then polish up my bod with Herbivore's Pink Clay Cleansing Bar, a non-drying soap that comes with the added bonus of smelling like roses. I've been using VERB's Ghost Conditioner, mainly because someone gave me a bottle that they didn't want and who am I to turn down a nice gift? Once out of the shower, I put VERB's Ghost Prep (another hand-me-down) on my ends then comb it through the rest of my hair. I then cover myself neck to toe in CeraVe Moisturizing Cream because if I don't, I will itch myself to death.
9:00pm
I wind down by hitting my weed pen and painting my nails, an activity I like because it requires focus and stops my mind from racing. This week, I'm trying out an Essie polish I recently bought called "Chillato." I do a terrible job, but will not apologize.
11:00pm
I fucking LOVE the ritual of prepping my skin for bedtime. I love it so much that I'd probably do it even if the products weren't working, though—great news—they are. (My skin is better than it's been... maybe ever?) Something about it feels like you're stripping the day off your face—it's unwinding and again, feels almost meditative.
Because I am but a pawn of capitalism and vulnerable to suggestion, I have been completely pulled into a Korean skincare routine that starts with Claudalíe's Make-up Removing Cleansing Oil, a—yes—oil-based cleanser that I use to—again, yes—get my makeup off. Next, I use Neogen's Real Fresh Green Tree Cleansing Stick, a product that I bought for traveling in order to cut down on carry-on liquids and was recommended by our pal Kara Brown. I then move onto Glossier Solution, an exfoliator that's a little stingy, but in a good way. (BURN IT ALL OFF AND LEAVE ME FRESH AS A BABY, MOMMY EMILY WEISS.)
I follow the exfoliator with a few sprays of Herbivore's Jasmine Green Tea Balancing Toner, which I cannot say enough glowing things about. It smells like heaven (I'm too sensitive for most scents) and is Enemy Number One to hormonal acne. (The enemy of my enemy is my $$$ toner.) God, I love it so goddamn much. I then spray my face with MISSHA's Time Revolution First Treatment Essence, a product—to be straight-up honest—I don't know if I need, but I use it anyway because it's refreshing and I am an idiot. After that, I use a vitamin C serum, Cosrx's Triple C Lightning Liquid, which I got after I lost my spensy Drunk Elephant vitamin C serum during a move. It's a good—though not great—dupe for DE, and the lower price makes it well worth it. Once every week or so, I put on a sheet mask and am currently making my way through a box of Benton Snail Bee High Content Masks, which are—to quote my hero Borat—"very nice," and leave my skin looking luminescent. Thank you to the snails for giving their lives to slime up my mug. Finishing up, I pat on a little bit of Kiehl's Creamy Eye Treatment with Avocado and then slather my face with Etude House Moistfull Collagen Cream, which keeps everything supple through the harsh, dry conditions of winter.
12:00-12:30am
I lather on a fuck-ton of chapstick, watch a round of ASMR blackhead extraction videos to relax, then go to sleep, resting up to do it all over again tomorrow and knowing that I'll wake up with skin so supple and smooth that I'll later demand my coworkers stroke my face to feel for themselves.