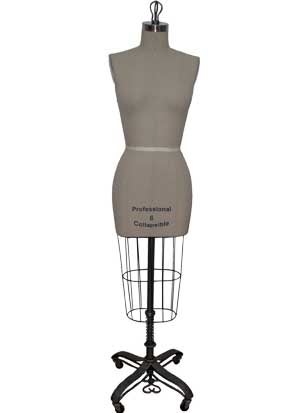 I've always wanted to be the kind of woman who could sew her own clothes. It's a skill that combines practicality and creativity - always desirable - and, theoretically, is thrifty, too. What's more, how great would it be to be able to whip up a replica of the dress she wears in The 39 Steps, and when compliqueried, nonchalantly throw off an, "Oh, this old thing? Made it." The reality? I'm incompetent. My first experience with custom couture came at the hands of the social studies teacher at my elementary school. We all had to make skirts for our sixth-grade graduation and I selected my bolt of apple-green gingham with great anticipation. Each step - pattern-pinning, cutting, basting, pleating sewing - was carefully supervised. Even so, my pins were crooked, the deliberate pace of the project frustrated me, and the sewing machine, with its dials and buttons, was terrifying.
While other girls breezed through their skirts, I required as much supervision as the slowest boy, toiling over his cotton tie in the corner. I still have that tiny skirt, and with it the distinct impression that dressmaking, like pastry-making, is a skill fundamentally unsuited to my personality. Not that it's stopped me. Over the years I've turned out a few horrible-looking tunics and wrap skirts that I've sported with impunity, ready to boast about my skills - not that anyone was asking. And when one is short and poor, alteration of thrifted purchases is a reality of life. ('Alteration' in this case also applies to safety pins and double-stick tape - of which I am a mistress.)
When I got marginally-better-heeled, I became a fanatical hemmer. The cheapest skirt, the crummiest pair of pants - nothing was too lame to be spared the dry cleaner's pinking shears. The very act of customizing, no matter how superficial, made me feel well-tailored and responsible. More to the point, hemming is a kind of magic; I cringe walking down the street as I see women whose silhouettes would be improved 200% by a half-inch and $8.
I recently made my first foray into custom tailoring. I loved the idea of something unique that fit my tricky figure perfectly, and I had long been in possession of a vintage pattern for a day dress. I dreamed of it in a rich wool jersey, envisioning myself transformed into a chic Best-of-Everything martini swigger who wrapped executives around her daintily-manicured finger. Fabric is way, way more expensive than you think it will be, but by scouring the menswear stores (and 'scouring' means walking a few feet into the first one I saw) I found one I liked. The tailor was, as usual, my dry-cleaner, Helen. I was absolutely thrilled at the prospect of my new dress - which, while pricey, was still better than what I would have paid off the rack. Should I have been concerned about the language barrier? Should I have worried when she didn't seem interested in the still of Myrna Loy in The Best Years of Our Lives (in a dinner dress which has a perfect neckline) I brought her? Should I have considered whether maybe the willowy drawing on the packet's cover was not an accurate representation? Perhaps. In any event, the garment I received from Helen was not what I expected. When I put it on, I was transformed - into a Mormon fundamentalist on a really bad day.
Scarred by this experience, I have reverted to Plan A and signed up for a sewing machine-skills class offered by some local hipster at a fashion school. I am dreading it. But at the very least I'll be able to handle that 1/2" myself. And one day - one day - I will be able to say "this-old-thing-i-made-it" without, you know, having forced someone to compliment a crudely-sewn burlap sack.