Macy's will pay $650,000 as a result of a probe the attorney general into its racial profiling practices at its Herald Square store in Manhattan. Boom.
The Civil Rights bureau began investigating Macy's in 2013 following a string of complaints from minority customers who said they had been singled out for harassment by security guards but had not stolen anything or committed any crimes. In addition to the $650,000 settlement, the store agreed to implement new polices against profiling, respond to complaints from customers and keep better records about who their security guards are detaining and why. For three years, Macy's will have to report on compliance as well. Damn. And GOOD. Via the Associated Press:
Attorney General Eric Schneiderman said the settlement should help ensure customers are treated equally regardless of race or ethnicity at the retail giant's 42 department stores statewide. "It is absolutely unacceptable — and it's illegal — for anyone in New York to be treated like a criminal simply because of the color of their skin," Schneiderman said.
As we expected, the attorney general's investigation found a pattern of troubling incidents, all involving minorities. Shocker.
The office recorded complaints from 18 African-American, Latino and other ethnic minority customers who claimed they'd been apprehended and detained at Macy's stores between 2007 and 2013, despite not having stolen or attempted to steal any merchandise. The complaints included customers detained after traveling between floors by escalator with unconcealed merchandise. Other customers speaking limited English and suspected of shoplifting or credit card fraud were not permitted to make phone calls, denied access to an interpreter and required to sign trespass notices they couldn't understand.
The agreement cites Macy's data from October 2012 through October 2013 showing employees apprehended and detained 1,947 individuals at the Herald Square store. Meanwhile, about 6,000 people were detained at stores statewide.
G/O Media may get a commission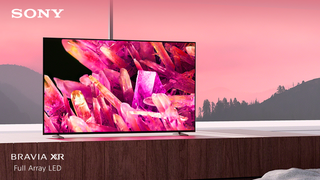 $400 off
Sony 55 Inch 4K Ultra HD TV X90K Series
Macy's released a statement about the settlement as well. "To be clear, our company's policies strictly prohibit any form of discrimination or racial profiling and any occurrence of such behavior will not be tolerated in our organization," the company said. "We also will be adopting an expanded role for our security monitor to help ensure that we have the right policies and procedures in place, and that we are constantly reviewing our compliance with them."
Hopefully this is will serve as a wake-up call to other big businesses and stores that engage in profiling but I think we all know that it probably won't.
Image via Getty.