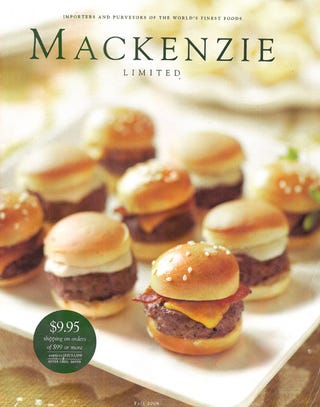 You want titillating, arousing, begging-to-be-ravished food porn? You got it.
Tender meat… bulging and exploding with a surprise inside. All you have to do is put it in your mouth.




Juicy, sticky, sweet and warm.


Would you like to nibble a lean little hunk? Or get your hands on something fleshy and chunky? Ooh, naughty: You want both at the same time, don't you.




Opened wide. Ready, willing. Waiting.
Or do you like it raw? Glistening and pink?


What a tease… Encouraging you to finger those folds.


Put your tongue inside, where it's moist and delicious.


Oozing. Just for you. You know you want it.


Biting is allowed… encouraged.


Can't you feel your heart race? It's dripping and luscious, waiting to be penetrated. [Ugh, Dodai, I'm blushing. -Ed.]
Mackenzie Ltd [Official Site]
Earlier: The Naked Chef: Pfaelzer Brothers Peddle Hot Food Porn