Lupita Nyong'o might be Hollywood's new IT girl (that's a "cool" girl, not a woman who goes door to door clearing the caches on celebrity computers as part of a studio-sponsored program to make sure they don't get caught watching porn), but she didn't always feel that way.
After receiving the Best Breakthrough Performance Award at the Essence Black Women in Hollywood luncheon Thursday, Nyong'o spoke candidly about badly she used to feel about her dark skin. She described getting a letter from a young girl who told her that she had considered buying skin whitening cream before learning about Nyong'o's success. Lupita was incredibly moved by these words, as one would be, especially because she had felt similarly as a young girl:
I tried to negotiate with God, I told him I would stop stealing sugar cubes at night if he gave me what I wanted, I would listen to my mother's every word and never lose my school sweater again if he just made me a little lighter. But I guess God was unimpressed with my bargaining chips because He never listened.
What changed? Model Alek Wek came into the picture:
A celebrated model, she was dark as night, she was on all of the runways and in every magazine and everyone was talking about how beautiful she was. Even Oprah called her beautiful and that made it a fact. I couldn't believe that people were embracing a woman who looked so much like me, as beautiful. My complexion had always been an obstacle to overcome and all of a sudden Oprah was telling me it wasn't. It was perplexing and I wanted to reject it because I had begun to enjoy the seduction of inadequacy. But a flower couldn't help but bloom inside of me, when I saw Alek I inadvertently saw a reflection of myself that I could not deny. Now, I had a spring in my step because I felt more seen, more appreciated by the far away gatekeepers of beauty.
G/O Media may get a commission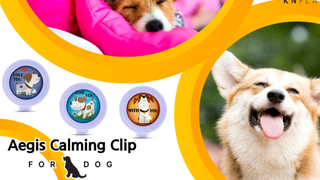 20% off
Aegis Calming Clip for Dogs
Nyong'o also reflected on the power of diverse faces by thanking Alfre Woodard, who presented her with the award, and the cast of The Color Purple. She closed by sharing her hope that this young woman "feel the validation of your external beauty but also get to the deeper business of being beautiful inside," adding that "There is no shame in Black beauty." Read the whole thing over at Essence.
Image via Kevork Djansezian/Getty