The August issue of Bazaar has Jessica Biel on the cover and a "Fashion Olympics" spread by Peter Lindbergh inside. The Olympics are being held in China, so they've chosen Lucy Liu, who was born and raised in Queens, to star in the photo shoot. Naturally. Unlike the April issue of Vogue, in which models posed and the athletes did athletic stuff, Bazaar's concept is more like Teen Vogue's Olympics -inspired shoot, i.e., a woman wearing clothes not conducive to movement while pretending to be sporty. It's great to see another Asian woman modeling for a major fashion magazine, but this photo shoot is infuriatingly stupid. Images after the jump.
Three good things about this photograph: 1. The composition and colors 2. The dress/shoe juxtaposition 3. Lucy's muscles Three terrible things about this photo: 1. The earrings are $25,000 2. Surely if she puts her foot down that heel will sink into the grassy ground and she'll be trapped or hurt? 3. Is this an homage to or a mockery of the sport of javelin throwing?
Girl looks fierce until you think about the fact that she's on a balance beam in a gown and heels, which is ridiculous.
G/O Media may get a commission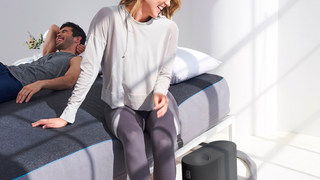 Eight Sleep Pod Cover
Get it? Shotput. With a $2800 Chanel bag. Dumb.
Okay, actually, this is cool. No, really. The foxy Robin Hood vibe, like the Disney film. Oodelally, golly what a day.
Lifting weights is for brawny dudes. Ladies pick up $3100 Gucci bags and barely break a sweat! Osteoporosis, shmosteoporosis.
LOL. Chariots of ire. Earlier: The Asian Model In Allure: Stereotyped? Teen Vogue Gives Summer Olympians A Sliiight Makeover More Of Vogue's "World's Best Bodies"