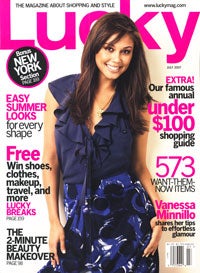 People have a certain feeling about a 'pageant girl,' opines former Miss Teen USA Vanessa Minnillo in next month's Lucky, page 35. They do! "But I learned a lot during that experience that you wouldn't expect, like how to dress in a respectful, sophisticated way that's still fun and appropriate for my age." Funny how that doesn't rub off on a girl's behavior! After the jump, we deconstruct the highbrow-lowbrow contrast of Vanessa Minnillo's demure clothes — and her conduct!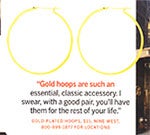 "Gold hoops are such an essential, classic accessory," Minnello tells Lucky. In fact, if you wear them consistently enough, they can be used to identify you in "sexy?" pictures taken with coked up starlets six years your junior!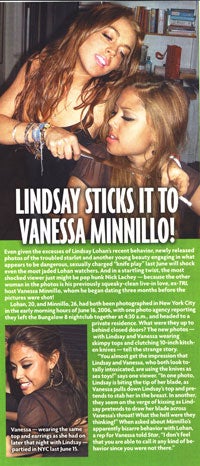 Also beloved by Vanessa: "Beautiful, complicated necklaces", "flattering, girly" dresses, "halter tops", (because "there's nothing sexier than showing off our shoulders and back"... except maybe your tits!) and "thin, comfortable lace thongs," which she calls "perfect for everyday." (She wears a thong everyday! How respectful and sophisticated!!)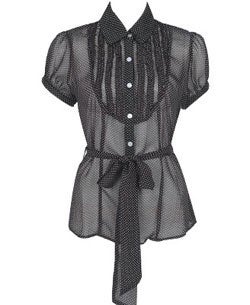 What she doesn't show us, however, is the sheer little number in which she licked Lindsay Lohan's knife. But we found it! Courtesy Forever 21!
Lucky
Related: Sheer Polka Dot Top [Forever21]