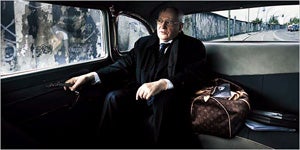 Eric Wilson of The New York Times 'Thursday Styles' section, has a piece today on how Louis Vuitton has hired former Soviet president Mikhail Gorbachev as a spokesmodel. Yes, you read right: First Scarlett Johansson, now our favorite birthmarked Russian! Kind of cool, right? Not to Eric Wilson! [Or me. -Ed.]
...what is a reader to make of a Vuitton ad, coming in the big September books, that stars Mikhail S. Gorbachev, the last president of the Soviet Union? A decade ago, Mr. Gorbachev's appearance in a Pizza Hut commercial was generally greeted as a low point in his career.
Memo to Eric Wilson and the Vuitton ad execs: Scarlett Johnasson makes us not want to buy your wares. The still-regal looking Mikhail G., however, makes us want to get our grimy 'lil hands on an overpriced, monogrammed piece of canvas ASAP. And we're not alone. Actual conversation between one Jezebel and her mother:
Jezebel: Why do I love Gorbachev so much?
Mother: Because he's the comfort food of former world leaders.
Gorbachev Made Me Buy It [NYT]