Nicki Minaj and her entourage were kicked out of a five-star hotel for causing a ruckus. What did they expect? Everybody knows she's a motherfucking monster.
Minaj took to Twitter and explained her eviction thus-
Cuz the barbz n paps were camping out n they said my barbz r 2 young.
She added:
"They said yesterday while I was out doing press, a fight broke out and an ambulance was called for 1 of my barbz."
Unfortunately, I can't translate any of that. Perhaps a Monsterese scholar can assist. [MTV]
Zsa Zsa Gabor is out of the hospital after most of her right leg was surgically amputated. Meanwhile, in her Gagacave lair deep in the Himalayas, supervillain Lady Gaga curses the fact that she didn't think of having a leg amputated first. [Yahoo]
There's an E! True Hollywood Story in the works about Kate Gosselin. Wait. Isn't she a "reality TV" star? Why do we need a show that reveals the "truth" about a person who appeared on a show that was labeled "reality"? Is there some truth behind reality? Is the reality we perceive actually layers of falsehood on top of some core truth? God, I feel like I'm in freshman year philosophy or totally baked. Or both! [ONTD]
Joey Fatone, the most unfortunately-surnamed member of N*Sync, is having a yard sale. I will take one Justin Timberlake marionette puppet, please. [TMZ]
Keyshia Cole would love to record a single with Nickelback. Let's hope that Keyshia hasn't lost her damn mind and that this is the musical equivalent of going to a party surrounded with your ugliest friends so that you appear hotter. [MTV]
Andrew Garfield declares himself ordinary and that declaration is reported to a news outlet and written up as a headline, just like how everything all ordinary people say is handled. [Digital Spy]
I guess Steven Spielberg is creating a musical pilot for NBC designed to compete with Glee. It will be called Smash which, in this post-Jersey Shore era, is actually slang for what The Situation does with his penis. You can always count on NBC to strike when the iron's cold and weird. [Perez]
Ricky Gervais does not even give a single fuck. [Daily Beast]
Wendy Williams is going to host a dating show on the Game Show Network that should probably be called The Treasury of Gifs. [Bossip]
Jason Mraz won't get married because he says he's waiting until gay marriage is legal. [HuffPo]
Speaking of possible commitmentphobes making up excuses to not get married, George Clooney won't get married again because he said he's tried it and didn't like it. [Us]
DirecTV has also passed on The Kennedys. Next stop, Aurora, IL public access! Katie Holmes as Jackie O? Schwing! [Digital Spy]
Important People are denying that a movie based on 24 will be made after Kiefer Sutherland hinted that there would be. What would a 24 movie be called? 2? Because 24 hours is a long time to watch people with dirty neck folds torture each other, and it's also a long time to sit in a movie theater since they're chemically treated to make everyone who attends a film desperately have to pee once per hour. [Digital Spy]
LL Cool J has apparently sold his soul to the devil, does not age, creates multigenerational panty wetness. [Bossip]
Pushy reporters accosted Danny Glover to ask him about the reboot of Lethal Weapon. All he wants to do is coach the California Angels in peace, you guys. He can't explain why Joseph Gordon Levitt keeps seeing those supernatural figures. Right now, America just needs something to believe in. [MTV]


Matt Damon has declared that some psychics are charlatans, but of course the psychics knew he'd say that in advance and have already prepared a well-researched rebuttal. [Digital Spy]
Robert Pattinson has voiced interest in playing deceased singer Jeff Buckley in a biopic. Not to be outdone, Justin Bieber is reportedly in talks to play Tom Waits. To prepare, Bieber will smoke 700 packs of cigarettes and watch live feeds from Tuesday last calls at bars in Ashland, Wisconsin until he starts crying over the crushing loneliness of daily life. He's also going to work in a mine. [Daily Express]
In Justin Bieber news that I did not just make up right this second, the teen singer is going to perform at the Grammy awards. [ONTD]
Cam'ron and Kanye West are in a feud. Maybe it's a Family Feud! If the question is "Name Five Rappers Who I Don't Mind But Often Forget About," "Cam'ron" is the number one answer. If the question is "Name Five Rappers Who You Wish You Could Just Not Be Aware Of For Like Five Seconds," the answer is "Kanye West." [Digital Spy]
James Franco dons long blond wig/ sings karaoke at Sundance/ I would still let him hit it six ways to Sunday. [Radar Online]
An associate of Juelz Santana is being booked on drug charges after a raid on the rapper's studio unveiled a shitload of drugs and guns. But wouldn't anyone at Juelz's studio technically have Diplomat-ic immunity?[MTV]
Zac Efron changed his hair to a much less tousle-able style. [Just Jared]
Bill Clinton hung out with Cameron Diaz, A-Rod and Chad Ochocinco in Miami and is cooler than all three of those people combined, because Bill Clinton is one of the top three fucking coolest people of all time. Of all time! [E!]
Drake is going to start acting again, as Captain Smirk in Degrassi: The Next Generation. (Not really.) [Perez]
The new X-Men film will "appeal to Twilight fans. This is a collateral effect of the Twilight phenomenon that I had, to this point, not considered: not only will there now be dozens of crappy monster romance books and movies for teens (which are annoying but ignoreable), other things that used to be not shitty are now going to start becoming shitty. It's the domino effect of crap. Who knew that sparkling, chaste vampires with pelvis-busting babies was so similar to The Red Menace? [Digital Spy]
G/O Media may get a commission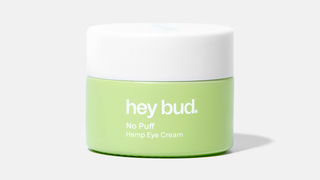 15% off
Hey Bud - No Puff Hemp Eye Cream