Last night on 30 Rock, Devin Banks said Liz Lemon's talk show Dealbreakers was destined to fail because, "She's just a writer with zero performing experience." But, a certain writer-turned-actress gave the funniest performance since Jack and Tracy's therapy session.
The episode was even more laugh-out-loud than usual, with Frank morphing into Liz, Jenna dubbing text messages "business sexts," and Tracy Jordan going to Whoopi Goldberg for advice on winning an EGOT (an Emmy, a Grammy, an Oscar, and a Tony), which is "a great goal for a crazy person."
While Alec Baldwin and Tracy Morgan often steal the show from star/writer Tina Fey, the episode's most hilarious moments came from her character Liz Lemon, who had a breakdown while filming the Dealbreakers pilot. Though Liz fantasized that as a TV star she'd be a glamorous blonde carrying on an affair with Astronaut Mike Dexter, in reality, she got a terrible makeover and her insecurities about acting made her so awkward that she forgot how to perform basic moves like waving and smiling. Jenna explained that "Regular Liz" had been transformed into "Performer Liz," and that Jack must then "lie to her, coddle her, protect her from the real world." Or as he put it, "Treat her like the New York Times treats its readers."
Although Anthony Lane criticized Fey's acting in The New Yorker's review of Baby Mama last year, saying, "she hasn't yet made up her mind how funny her body is meant to be," in the clip below, Fey shows off her physical comedy chops as Liz attempts to film the intro for Dealbreakers.
G/O Media may get a commission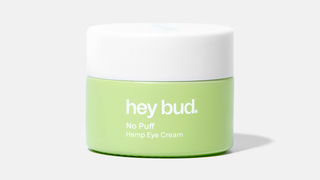 15% off
Hey Bud - No Puff Hemp Eye Cream
What really did Liz in wasn't her robotic performance or Jenna-like tantrums, but what her face looked like in high-def:

At least she didn't look as bad as Pete:

Once again, we saw that in his soul, Kenneth belongs on Sesame Street:

And of course, the only person who actually looked better in high-definition was Alec Baldwin:

The full episode is available on Hulu.
Switching Places [The New Yorker]
"Dealbreakers Talk Show #0001" [Hulu]