We're equally thrilled and sad that the finale of Rock of Love airs tonight. We wish that we could watch these girls on TV for the rest of our lives. (Actually, we might be able to, so long as VH1 keeps making awesome spin-offs. Please, please, please do an ROL Charm School!) So whose tour will end tonight, and who will continue to rock Bret's world: Heather the Hungry, Hungry Strippo or "Clavical" [sic] Jes? It will be really shitty of Bret to not pick Heather since she got his name tattooed on her neck. Plus, we just really like her. She coined the terms "tatters" and "yum-ola" after all. So kick up your feet, get comfortable, take off your bras—we're live blogging this shit.
10:00 "Now I have an asshole loser's name on my neck." It's funny 'cause it's true. Dear VH1, please give Heather her own show. Working title: Stripper of Love.
9:57 Oh! Poor Heather! She's gonna have to find another guy named Bret to go out with.
9:51 I want to know why they didn't explain the girls' matching guitar necklaces.
9:48 Jes's dress was worn by a birthday girl on an episode of My Super Sweet Sixteen.
G/O Media may get a commission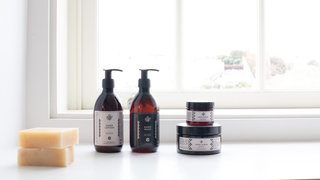 Exfoliate and Hydrate
The Handmade Soap Company
9:47 I literally just screamed out loud when I saw Heather's hair. I looooooove her stripper gown. She's the best, for real. "How can Bret look at me and not choose me?"
9:46 I'm predicting Jes for the win right now.
9:45 I love this contemplation shot of Bret.
9:41 OK, I think I might go back and start a "dye-uh-bee-diss" count.
9:38 This server is taking so frigging long to update! Argh. BTW, some commercial-break info, I'm sitting here with College Callgirl and we made a Dorito buffet. We have Fiery Haberno, Blazin' Buffalo Ranch (my fave), and Collisions: Chipotle Ranch and Zesty Taco all lined up in bowls. It's the most appropriate food for this occasion.
9:35 Jes's date is way better than Heather's. But Bret's braids on this date are worse.
9:32 "All I smell is rotten pussy." OK, now I really relate to Heather.
9:31 Heather's walk of shame is WONDERFUL. Look at her hair! I'm really beginning to relate to her.
9:30 I wanted to hear more moaning coming from Bret's room. Like when Flav was in the room with New York and she kept saying "That shit is proppa. That shit is proppa!"
9:26 Bret just used the term "yayas" to describe boobs. Remember Yaya from Top Model? OMG! He keeps saying it! Also, the term is "tatters." Also, ew, tiny braids.
9:22 I'm so sick of people ragging on Heather for being a stripper as the reason that she's not right for Bret. That pisses me off.
9:20 Heather just described her Atlantic City hooker outfit as a "cute little sundress." Hahahahaha!
9:18 What a fucking baby. He hasn't told Heather that he doesn't feel well, but is pissed that she's not paying enough attention to notice.
9:17 OMG! He says "diabetes" just like Wilford Brimley. Dye-uh-bee-diss.
9:16 Seriously Bret likes to take the girls on the most dude-ish dates. Off road vehicles? No thank you.
9:10 Also love Bret's technique for cutting the tension, "You guys should eat some food 'cause it's really good."
9:08 I love that Bret has brought up Heather's lezzie tendencies as being an issue, only because he felt she wasn't paying attention to him.
9:04 The group is so excite that they can't stop going "Woooo!" Pervy brother Jonno says that their should be a "woo" count for this episode. He's up to 18 right now.