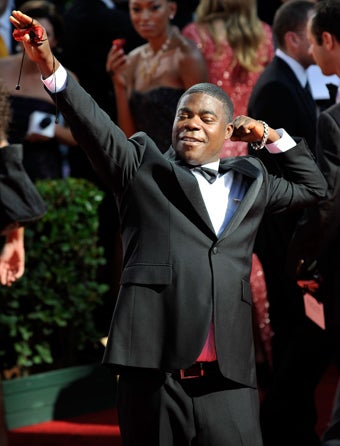 Does Flight of the Conchords stand a chance for Outstanding Comedy Series? Does anything stand a chance against Mad Men and 30 Rock? Let's watch, as Doogie hosts.


11:03 An ambulance had to be called for Kristin Chenoweth. According to the report, she "first complained about a migraine headache, then said she couldn't open her eyes." Do you think it had something to do with the glasses?

11:01 Mad Men wins for Outstanding Drama Series. Elizabeth Moss and Jon Hamm both gave their significant others soul kisses.
10:57 I hope Lost wins. I mean, I guess I don't really give a shit. It wins in my book anyway.
10:55 30 Rock wins for Outstanding Comedy Series.
10:49 Wow, the Breaking Bad guy won for Lead Actor in a Drama Series.
10:44 Glen Close wins for Lead Actress in a Drama Series.
10:38 Mad Men wins for Writing for a Drama.
10:30 Dead people, with some singing that might remind you of shelter cats and dogs in need of a home.



10:23 Did Chris O'Donnell fart or something? What's the deal with LL's face?

10:21 Michael Emerson totally sounded like creepy Ben during his acceptance speech.
10:20 Ben Linus FTW!
10:08 Check it out. They're advertising it. It's gonna take a long-ass-ass time.

10:07 I'm annoyed that FOC didn't win for original music and lyrics.
10:01 JK, not pregnant. Pull-out method still 100% effective. Just checking to see if people were reading.
9:45 Grey Gardens won Outstanding Made for Television Movie and the director quoted from Little Edie's journal in his acceptance speech.



9:43 What's with Keifer Sutherland's ear growth spurt?

9:41 I'm pregnant.
9:34 I'm so glad Jessica Lange won. She really nailed Big Edie, I guess proving that Botox won't necessarily hinder one's acting abilities, or guarantee that women over 30 will get hired to play women under 60.
9:32 What's the deal with this internet vs. television thing. Suddenly, TV thinks it's print.
9:26 When they did that joke about the "best seat in the house" and panned over the theater, it looked pathetically empty.

9:13 Do you think Shohreh Aghdashloo is a smoker?

9:11 Actually, these movies all look up my alley. I never even heard of half of them, and I've only seen two.
9:09 Grey Gardens needs to win in this category, obvs.
9:08 And I was right. It pisses me off that Big Brother wasn't nominated. It's only the best reality competition program ever, other than ANTM and The Real World/Road Rules Challenges.
9:07 I have a feeling that The Amazing Race will win.
9:06 Yes! Tracy Morgan! Even the way he says "Neil Patrick Harris" makes me laugh.
9:03 These self-written bios that are read aloud as the winners are walking to the stage are so fucking smarmy.
9:02 I don't like that the Chenbot wasn't nominated for Outstanding Host of a Reality Competition Program.
9:00 Is that Dancing with the Stars girl related to the liquor Smirnoff?
8:57 Sadly, this montage is the highlight of the night for me. Love that they're playing Britney's "Circus."
8:56 Omg, they're actually acknowledging reality TV right now!
8:54 Alec Baldwin wins for Outstanding Lead Actor in a Comedy Series. That makes 2 for 30 Rock.
8:45 Seriously, what is with the trend of Valerie Cherish backwards dresses at award shows?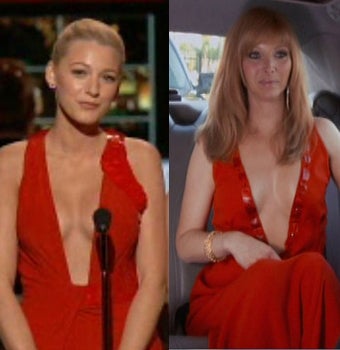 8:36 Love it!

8:34 Justin Timberlake is presenting Outstanding Lead Actress in a Comedy Series. He's starting to look like a lesbian again.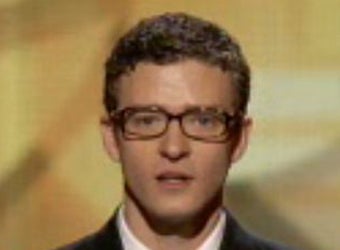 8:30 Ha! I love Jemaine Clement's face behind Kevin Dillon, both before…

…and after Dillon lost to Jon Cryer.

8:29 Who did they think they were fooling, by putting NPH back in the audience, like we didn't know he was hosting this whole thing.

8:26 One of my pet peeves is when people say "log on to..." in reference to visiting a web site. That's not what it is!
8:25 Award #1 for 30 Rock: Outstanding Writing in a Comedy Series.
8:13 When I first saw this I was like, "Hrmph, Broadway people..."

But apparently the glasses schtick was Amy Poehler's idea. I love that Vanessa Williams wouldn't participate.

8:10 Ha. I liked that Tina Fey made a joke about Seth MacFarlane being drunk.
8:07 Tracy Morgan did not like NPH's joke about Kanye West.