Welcome to 'Fine Lines', the feature in which we give a wrinkled look at the books we loved in our youth. This week, Lizzie Skurnick rereads 'Little Women', Louisa May Alcott's 1868 uber-girl guide to solace through sacrifice and scrubbing.
• • • • •
"Christmas won't be Christmas without any presents," grumbled Jo, lying on the rug.
I first read Little Women in college. Of course, I had read Little Women before college. Numerous times, in fact, throughout my childhood, in a vaguely seasonal rotation with the Little House books, An Old-Fashioned Girl, The Secret Garden, and Terms of Endearment. (The paperback of the latter was mis-shelved with YA books in my local bookstore. It is epic; you should read it.) Little Women was the first assignment in a popular cultural survey course of 19th-century literature, and that day, I looked scornfully about the room, confident that the yawning rows of fellow freshman in Tevas and baggy soccer shorts were unlikely to appreciate the narrative transcendence of Amy's turbulent sweeping-away of her accomplished trinkets from the Arts table or Meg's inability to make currants jell. (The violent, inappropriate wave of possessiveness that sweeps over whenever a work I treasure is up for public discussion is one of the many reasons I am unfit for book clubs.)
But, like many a March girl before me, I was about to be skewered on my own sharpened pride. The Dean immediately launched into a chuckling assessment of the March girls' first acts of Christmas celebration—namely, giving over all their pocket money for an improved set of gifts for Marmee, then donating their sumptuous breakfast feast to the far poorer family down the street—convulsing the lecture hall of 500 people for the entire 50 minutes. I, wondering what book they had read, was shaken to my very core. What was everyone laughing about? That's what you did with Christmas breakfast. Give it away! To the Hummels! How else could you become one of the four merriest girls in the city?
G/O Media may get a commission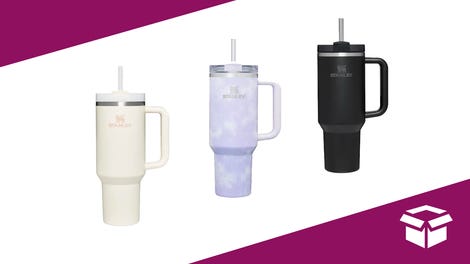 Up to 45% off
Stanley Cup Sale
Thus must the early reader of Little Women immediately choose a side. One (WEARING TEVAS) finds not only the author's persistence in forcing the March girls to give up what they delight in but finding delight in such sacrifice completely inane. But another breed of reader unconsciously finds in the novel's cycle of desire and self-denial something as rare and delicious as pickled limes. For in the world of Little Women, there is no emotion so deeply felt it should not be vanquished, nor desire so great that it cannot be smacked down—and no end to the brilliant varietals of smackdown Alcott can concoct.
Take Amy. God forbid the poor girl should want to pay back her gross debt of pickled lime to her schoolfriends. For this act, she is beaten. (Beaten!) Likewise her ladies' lunch, which results in two days of tough chicken salad for the March family and only one quizzical guest. Pretty Meg wants to look prettier at dances. Dommage! There go her bangs in a burning frizzle—while another evening spent in borrowed finery earns her the scorn of family friend Laurie as well as this crushing condemnation by the host: "They are making a fool of that little girl: I wanted you to see her, but they have spoilt her entirely." When Amy burns Jo's manuscript in an extraordinary act of pique, it's not bad enough that Jo has lost years of work—she's not even allowed to be mad at Amy, for no sooner has she decided to never speak to her sister again than said sister crashes through thin ice into a freezing river.
I have always found the last instance the most profoundly unjust of the lot (especially since, in a kind of family-style Freudian PTSD, the entire family insists on making the joke, "Does genius burn, Jo?" every time she puts on her scribble cap to write), but I became especially interested in it when one of Shelf Discovery's Facebook friends reminded me of the following passage, in which Marmee encourages Jo to exercise still more control over her anger:
"Jo, dear, we all have our temptations, some far greater than yours, and it often takes us all our lives to conquer them. You think your temper is the worst in the world, but mine used to be just like it."

"Yours, mother? Why, you are never angry!" and, for the moment, Jo forgot remorse in surprise.

"I've been trying to cure it for forty years, and have only succeeded in controlling it. I am angry nearly every day of my life, Jo; but I have learned not to show it; and I still hope to learn not to feel it, though it may take me another forty years to do so."
That's exactly the kind of passage you skip over as a girl to race ahead to Amy's putting a clothespin on her nose to make it more Grecian, but stop dead on as a woman, having earlier completely failed to grasp that Marmee is more than a gracious creature in a gray bonnet sweeping in and out of the house on her way to do good works. Because: Why is she angry, exactly? Why, could it have anything to do with the following two asides about Mr. March?
"Don't you wish we had the money Papa lost when we were little, though?"
and
"I think it was so splendid for Papa to go as a chaplain when he was too old to be drafted, and not strong enough to be a soldier!"
Having your husband lose all your money, then head off to join an army that does not particularly want him, leaving you alone to do all you can to keep your four daughters from becoming the even poorer Hummels down the street, might conceivably inspire some rage—as well as a slightly outsized insistence on pointing out the sunny side of every type of deprivation. (Meg and Amy aren't smacked down simply for wanting nice things—they're smacked down because many nice things are above the March's means.) For Marmee, knowing there's nothing she can do personally to improve their financial situation, has two choices: let the girls wallow in misery, or encourage a kind of demented cozifying of all that is unfortunate. (Oh, Alcott: Find me even the most intrepid lady today who will thrill to the happy rat who keeps her company in her office.)
Because while that chuckling professor (can you believe I'm STILL this enraged about it?) seemed to grasp what was ludicrous in Marmee and the March girls' cheery grate-scrubbing, I don't think he saw that Marmee was ludicrous....like a fox. Because while Marmee asked the girls to deprive themselves of almost everything, there was one gift she allowed them: work. Witness:
"Work is wholesome, and there is plenty for everyone; it keeps us from ennui and mischief, is good for health and spirits, and gives us a sense of independence better than money or fashion."
And when did Marmee conceive of the great powers of work? Why, pretty much around the time when her husband lost all of their money!
"When I was first married, I used to long for my new clothes to wear out or get torn, so that I might have the pleasure of mending them; for I got heartily sick of doing fancywork and tending my pocket handkerchief....it was play then, but there came I time when I was truly grateful that I possessed not only the will but the power to cook wholesome food for my little girls, and help myself when I could not afford to hire help."
When there is no other option, work means independence. And, by and by (oh, can we bring back "by and by"!), it is not through the girls' marrying well or depriving themselves that the March family thrives, but because of Jo's own work—her writing career. Alcott, in one of her happy meta-moments, waxes blobbily on the great virtues thereof ("one of the sweet uses of adversity is the genuine satisfaction which comes from hearty work of head or hand; and to the inspiration of necessity we owe half the wise, beautiful and useful blessings of the world") until she finally gets to a salient point: "Jo enjoyed a taste of this satisfaction, and ceased to envy richer girls, taking great comfort in the knowledge that she could supply her own wants..." (italics mine)
Put Alcott's moralizing aside, and you see that the sisters who use their own work to become independent are rewarded, and the sisters who self-abnegate are not. Modest Meg fades into domestic obscurity and Beth is summarily killed off, while Jo is not only allowed to continue in her writing career but arranges things so that she can preside over an entire troop of rough-and-tumble boys with her doting, learned husband. (I know Friedrich is often regarded as something of a punishment. It is rather a shock to your average eight-year-old to have Laurie usurped by some ursine old expatriot, but I always liked him.) Amy's vanity is not tamped down but allowed to bloom: she is given not only true love but made mistress of a house where she can become a great benefactress of the arts. And thus, Christmas breakfasts notwithstanding, the two creative, independent March girls thrive through pursuing their desires, not setting them aside.
When Jo first sets out in the world to sell her stories, an editor rejects them, telling her, "'People want to be amused, not preached at, you know. Morals don't sell nowadays.'" Alcott appends this wisdom with: "....which was not quite a correct statement, by the way." Yes. Oh Professor (still bitter! Still annoyed!), it's not that Alcott's morals were silly. It's that you were looking at the wrong morals.
• • • • •
Hello, beauties! Speaking of not setting aside our desires and pursuing creativity etc., here are some demands:
Follow me on TWITTER
Friend Shelf Discovery on FACEBOOK
Friend, Follow or Fan me on GOODREADS
Visit my malware-free BLOG
Sign up for my MAILING LIST
Buy the BOOK!
I was on NPR's All Things Considered talking about great girl heroines. LISTEN
I know, I know, what have I done for you lately? But even though I am not doing a lot at many of these places yet—being this 2.0 is taxing even my enormous ability to overshare, to say nothing of the fact that I feel that Marmee somehow would disapprove—I can assure you that a big portion of what will be going on involves GIVEAWAYS and FUN QUIZZES and EVENTS and PLOTFINDER CONTESTS and possibly a Jacob Have I Loved mug!
Speaking of Plotfinders, first, last week's winner. I am going to go out on a limb and say it is Michelle S. for "Watcher in the Woods," but commenter AFever can also have a galley for guessing Sarah Armstrong's "Blood Red Roses," because I really don't know which one it is. Amy G., do these ring a bell? Winners, write me at jezziefinelines@gmail.com with your addresses for your GALLEYS!
THIS week's Plotfinder comes from Esi H., because Hayseed and Armpit, you can't make this stuff up:
Here's the plot (I think): There's this young girl, who may be new to the town. She makes friends with another girl, and I think they hang out in an orchard/ field with a tower? And there's this wise old man who may be the caretaker or gardener or something along those lines. Anyway, the girl's friend finds other people to hang out with, and I think our protagonist finds herself all alone. Maybe she gets another friend over time too, I can't recall. I do remember some sort of scene where our protagonist bumps into Ex-Friend and Ex-Friend's new friends and somebody is all teary (protagonist?) and excuses it by saying it's her allergies to hayseed. And then the friend she got replaced by is now being replaced as well? There might also be some sort of sister who goes out with a guy who has a bad muffler on his car and they drive around with her face in his armpit. But that might be another book entirely. Sorry this is all so vague! Hope someone can help me out!
Send your answers to jezziefinelines@gmail.com or put them in the comments! First one to answer correctly gets free copy of Shelf Discovery galley or finished book, whichever arrives first.
AND ONE LAST THING...
We are working up some delicious quizzes for your delectation. HOWEVER. I do not want to write them all, mainly because I will leave out lots of good stuff. So if you would like a chance to win a copy of Shelf Discovery, send me your sample quiz questions about your favorite books to jezziefinelines@gmail.com with QUIZ in the subject line, along with your mailing address! We will be randomly picking entrants to win copies of the book.
What do I mean by questions? Here is an example:
"When Cal returns from the war to Rass in 'Jacob Have I Loved,' Louise smears what on her hands?"
a) Cheap lotion
b) Saltwater
c) Her sister's left-behind perfume
ANSWER: A
OR
"In what Paula Danziger book does a girl trade her lunch for a peanut-butter-and-bean-sprout sandwich?"
ANSWER: The Divorce Express
You can also make a Facebook quiz, like, "What classic child heroine are you?" I am supposed to do this, I know, but YOU WILL DO IT BETTER. Any Facebook quizzers AUTOMATICALLY win copies of Shelf Discovery.
Congrats and good luck!