Lisa Kudrow says that the nose job she got at 16 was one of the best decisions she ever made. In an interview with the Saturday Evening Post, she put it thusly:
"That was life altering. I went from, in my mind, hideous to not hideous. I did it the summer before going to a new high school. So there were plenty of people who wouldn't know how hideous I looked before. That was a good, good, good change."
It's sad that, as a teenager, she was so unhappy with her appearance that she found it necessary to get plastic surgery in order to succeed socially — but she's very happy now and she has really owned her decision, so good for her I guess? I think you're very beautiful inside and out, Lisa Kudrow. [E!]
---
Chris Brown's assault charge was reduced from a felony to a misdemeanor; he pleaded not guilty and was released from jail without bail. Apparently this is because the original police report states that Brown's bodyguard threw the punch (the bodyguard's charge has also been reduced to a misdemeanor).
G/O Media may get a commission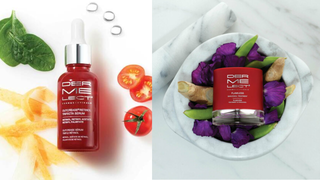 Save $19
Retinol Renewal Kit
Sources close to Brown also say that the fight wasn't over a photo — they claim that the alleged victim tried to force his way onto the tour van. There's no way to know whether anything anyone is saying is in any way valid or truthful, but this whole incident is as blergh as blergh could be. [ONTD]
Many people on Brown's team are now saying that he needs rehab and intensive therapy — which is probably the case, as he has a hugely troubling history of violence, and he's made statements that indicate he was the victim of sex abuse as a child. [E!]
---
Kanye West got very performance piece-y at his concert on Friday, striding around in a bedazzled Margiela mask and demanding, "DO YOU LOVE IT WHEN I TALK MY SHIT, YES OR NO?" over a few sparse piano notes while the crowd made nervous and guttural cheering noises.
The video above doesn't show all of it — apparently it lasted 10 minutes, and Kanye covered a wide variety of topics, including but not limited to: Aresenio Hall, racial profiling at Barneys, Paris Fashion Week seating arrangements, self esteem and Jesus. A veritable buffet of Kanye-thoughts, some of which were conveyed to the crowd while Kanye sprinted in circles. It's probably one of the most brilliant things to happen at a pop concert in recent memory. [EW]
---