After Lindsay Lohan's entire Playboy pictorial leaked online, Hugh Hefner decided to release the issue early. So how are sales? Well, the mag either "falls flat with consumers," or is "on fire." TMZ reports:
According to our sources, newsstands in major cities like New York and Los Angeles have had to re-order the issue multiple times. We're told Playboy is even getting re-orders from cities that usually never order more issues.
There's even been a huge increase in Playboy's online subscriptions, even though the complete pictorial was available on many other sites. However, Fox News says:
Fox411 spent Friday morning trolling the shelves of newsstands and gas stations from New York to Philadelphia only to be confronted with the same reality at each: Lohan's glassy-eyed stare peaking above the backs of more family friendly fare, with no one staring back or making a purchase. "No one has bought it," was the resounding answer to our query at each stop.
Ooh! It looks like this story is going the "choose your own adventure" route! Should you trust TMZ's anonymous, but often disturbingly knowledgeable, sources, or the Fox News interns dispatched to magazine sellers throughout the mid-Atlantic states? Your decision will determine if both Playboy and Lindsay's career are dying out, or if there's still a bit of life in them yet.
Lindsay Lohan Playboy Sales Are On Fire! [TMZ via N.Y. Mag]
Lindsay Lohan's Playboy Debut Falls Flat With Consumers, Retailers Say [Fox News]
G/O Media may get a commission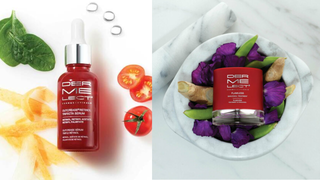 Save $19
Retinol Renewal Kit
Earlier Hugh Hefner Says He'll Release Linsday Lohan's Playboy Issue Early, Just In Time For Christmas