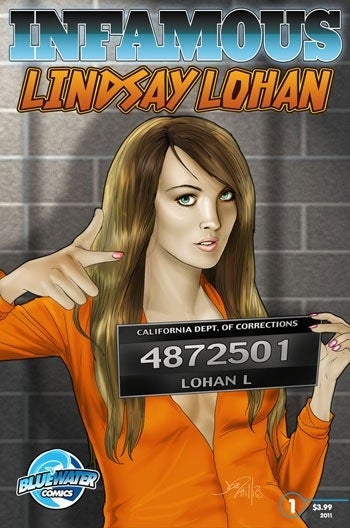 Those who've had a hard time following Lindsay Lohan's courthouse shenanigans will soon be able to catch up with a comic book from Bluewater Productions. Even we forgot about the mugshot in which Lindsay gives us the gun while wearing a low-cut orange jumpsuit!
Writer Marc Shapiro says the comic will examine the underlying causes of LiLo's inability to "straighten out her life" in 32 illustrated pages:
"Lohan is both a victim of the all-consuming celebrity culture and a perpetrator of bad decisions, lack of self-control and an unhealthy sense of entitlement. This issue can be seen as a tragedy in motion; it's last chapter has yet to be written."
Whoa, deep stuff! We really hope Lindsay manages to conquer her demons ... and fight off the paparazzi with her laser-shooting eyes.