Elle is here! With the Lindsay Lohan profile that was supposed to win all sorts of journalistic achievement awards by providing what editor Roberta Myers calls "insight into her situation right now," which is to say, what the New York Times called "rampant narcissism." (What the world needs now: "insight" into a narcissist's "narcissism"!) Anyway, the photos of Lindsay's colossal jugs do an admirable job at "conveying" her, and we do get some insight into why she stole all those Louis Vuitton clothes from the photo shoot, but does any of it approach the lofty heights reached by last month's Tatler, which quoted her saying:
'I was going out with someone and they said I should read Machiavelli and I was like, 'Nah,' and then I was, 'OK, I'll read it,' and now it is always with me.'
Or as a person who read The Prince fifteen years ago and could barely muster the attention span for the first paragraph of the Wikipedia entry might paraphrase the Renaissance philosopher: do the ends justify the means? Did the Elle story justify sending out Intern Maria in the midst of monsoon season and risk sending our insurance premiums higher than those for the set of Edge of Love? Yeah yeah ("insurance": As if!) We got your fix after the jump.
The three most telling things in the story are, firstly, the quote, "I come to the Ivy" — the Beverly Hills restaurant that is like the paparazzi "Cheers" — "because I like the food!" (This is about as credible an assertion as "I read Hustler Barely Legal for the articles".) Also, there is the fact that Meryl Streep and Jane Fonda won't comment for the story, and the fact that Lindsay nevertheless thinks that her awesomely seductive winsomeness will manage to rope in Fonda, her Georgia Rule co-star, to appear in the music video to the putrid Mickey Avalon song "Jane Fonda." (For those of you unfamiliar with Mickey Avalon, he is a gross white homeless dude turned joke rapper inexplicably beloved — well no, explicably beloved, we guess — by Hollywood's miserable excuses for "hipsters".) Here are some of the article's other finer moments:
Her comments on on/off boyfriend Callum Best:
I like him. He's me in male form. We're very similar. Stubborn, rebellious, very smart, coy, a little bit narcissistic... like the other day when we were in the Bahamas... I was walking by some mirror. And he caught me looking in the mirror and he goes "I caught that!" I was like, "Damn, I look good!
Obligatory misuse of words "sick" and "suffer" to describe self in same sentence:
I wore black Balenciaga pants and this 'sick' black Hermes collard shirt with no sleeves and an open back. Huge Balenciaga heels — I suffered.
G/O Media may get a commission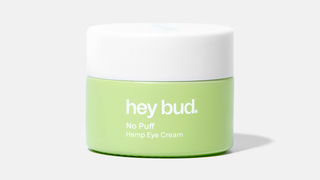 15% off
Hey Bud - No Puff Hemp Eye Cream
And yeah, that's the problem here:

That's one of my issues in rehab—"you need to focus on yourself."
On avoiding the proverbial "people, places and things" associated with ones substance abuse problem:
'I was reading a magazine,' [Lindsay's assistant Jenni] Munro says. 'And she says, 'Why are you laughing?' And it's because I had just texted our friends this very thing: 'A cab to the Mercer, 20 dollars; a room at the Mercer, 500 dollars; listening to Lindsay Lohan say she's sober? Priceless.'
And finally, about all that swiped merch..
I wanted everything [on the shoot].... There was this Cartier watch, and I was like, "What do I have to do to get this watch?"...But couldn't buy it because I bought two Daytonas and a rose-gold Rolex. They were all stolen.
All in all, the profile is sorta "meh," reeking of "I can't totally burn her since it would just be so sick if she agreed to do a third interview with me," on the part of writer Holly Millea, and disappointingly un-Machivellian on the part of Lindsay. Because, that last part about stealing the watch — that's more "eye for an eye" than "ends justify the means," right? Oh, fuck if we know. Lindsay Lohan ate our brains.
Girl On Fire [Elle]