Be thankful if you still have a job: After the hell year that was 2009, a lot of fashion people don't. Many designers were fired, some were hired, and plenty lost their businesses altogether. An overview of the tumult:

Label Closures
Christian Lacroix's namesake house teetered on the brink of collapse for the better part of this year. After filing for bankruptcy in Paris this May, owners the Falic Group announced a "restructuring" plan that would see the couture house shuttered, and the Lacroix name live on only in ready-to-wear and accessories licenses. After it became known that the house of Lacroix had never turned a profit in 22 years of operation, Christian Lacroix told the press he was "too angry to cry," and that he had been working without pay for over a year.
A frenzied campaign to save the business ensued. One couture client made an offer to buy; but during the bankruptcy process, suitors like France's Bernard Krief Consulting and Italy's Borletti Group dropped out. A relative of the Sheikh of Ajman in the United Arab Emirates made a serious offer, and seemed to speak seriously of Christian Lacroix private jets and Christian Lacroix yachts and Christian Lacroix lifestyle products; for a while, it seemed all would end well, and a fantastic couture collection was shown in July despite the cash-strapped state of affairs. However, the sheikh could not provide financial assurances to the bankruptcy court, and on December 1, Falic Group's own worst-case-scenario plans were put into place. At least 100 people lost their jobs. Christian Lacroix lost the rights to his own name, and started designing uniforms for French railway workers.
G/O Media may get a commission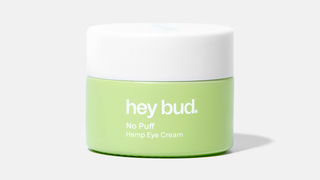 15% off
Hey Bud - No Puff Hemp Eye Cream

Luella, the critically acclaimed and very popular British label founded in 1999 by Luella Bartley, closed less than 12 months after being named Designer of the Year at the British Fashion Awards. The distributor withdrew its backing after the Italian company that produced Luella clothing went bankrupt. Bartley said at the time that she hopes to revive the label, when the credit crunch eases.

More avant-gard designers also have not fared well this year, as perhaps might be expected. Yohji Yamamoto announced it had filed for bankruptcy protection, with debts of around $68 million, in Japan this October. (It is continuing its operations while in bankruptcy.) Belgian designer Véronique Branquinho was forced to shutter her 12-year-old line in May. New York-based Phi, founded by billionaire's wife Susan Dell and designed by Andreas Melbostad, announced it would close up shop just this week.
Photo: A model in a 2004 Véronique Branquinho show in Paris.


Jennifer Lopez has had bad luck with her clothing lines. The star founded JLO clothing in 2007, and closed it two years later. Replacement label Justweet lasted two seasons. This June, her latest effort, Sweetface, also bit the dust. Good thing she's still raking in the dough from her perfumes.

You're Fired
After rumors swirled for months, Olivier Theyskens was finally fired from Nina Ricci. His last collection included towering heel-less Gothic boots, which later turned up in an evening ensemble worn by none other than Daphne Guinness. Peter Copping was his replacement. Anna Wintour, who allegedly gasped, "How could you do this to me?" when told the news, was so upset by the whole episode that she wrote a letter from the editor about it:
Olivier Theyskens's recent departure from Nina Ricci suggests to me that the vital role of artistic talent has been obscured in the current economic climate. My staff and I were shocked to learn that Theyskens's contract would not be renewed; and I am very concerned that the business of fashion is undervaluing the most important asset our industry requires: creative visionaries. There's a reason we continue to see Theyskens's influence everywhere, from catwalks to the mall. He'll be back, but fashion must hold its nerve. This is the mission that we at Vogue happily shoulder.
Despite this ringing endorsement, by the end of this year, all we've heard of the gifted Belgian is that he's writing a book and "discussing" a "retail concept" with Tory Burch's husband.
The whole situation at the house of Ungaro this year is just Kafkaesque in its web of intricate reversals of fortune and surprise non-sequiturs. After many strenuous denials that any such move might even be considered, might even be on the table, C.E.O. Mounir Moufarrige summarily fired young Colombian designer Esteban Cortazar for failing to generate sales and buzz for the esteemed, though somewhat dusty, fashion house — and, we later learned, for refusing to work with Lindsay Lohan.
New designer Estrella Archs was brought on board — with La Lohan as her "artistic adviser" sidekick. ("It could work," said Moufarrige.) Their collection of very short, very tight, and very embellished dresses was widely panned by critics and the line was dropped by most of its U.S. distributors; Lohan later distanced herself from the decision to style the show models with heart-shaped sparkly pasties over their nipples. Then the Times of London visited her and found a disturbing scene:
The room looks like the aftermath of one of those home-alone teen parties advertised on Facebook that then gets horribly out of hand. Chaos rules. Designer clothes are strewn everywhere; most of them from a sweep of the Emanuel Ungaro boutique that Lohan made upon her arrival in Paris, walking away with an estimated £90,000 worth of free clothes. Shoes, make-up, jewellery, even a stray lampshade obscure the hotel carpet. Her passport is in here somewhere. She's been looking for it for days.
Even Ungaro himself spoke out to attack Archs and Lohan's efforts; Moufarrige denied the disastrous reception had caused any tensions, and said Lohan would stay. Then he himself abruptly quit. Stay tuned for what happens next!

That Old-Time Revival Feeling
Halston was revived. Again. This time designer Marios Schwab was chosen to helm it, and former designer Marco Zanini and stylist Rachel Zoe were ditched.
Halston book published by Phaidon



Former Valentino chief executive Matteo Marzotto and Marni chief executive Gianni Castiglioni bought the rights to the house of Vionnet in February. The clothes, when they came, were perhaps the biggest disappointment of the year. Hint to designers: There is so much you can do with Vionnet! The real Vionnet frikking invented cutting on the bias, okay? Have the temerity to at least try something daring.

Bill Blass was one of the recession's earliest casualties. The talented creative director, Peter Som, and all the other employees were fired unceremoniously just before Christmas last year; the bankrupt label was later sold, for a bargain basement price of $10 million. (In January of this year, just before his planned show at New York Fashion Week, Peter Som lost the financial backing for his own label, too.) Just this month, the new owners, Peacock Holdings, announced Jeffrey Monteiro would be taking over the designing reins. We'll see his first collection — the Times called Monteiro's clothes "nothing startling" — next winter.
Photo of a model wearing Peter Som's Fall 2008 collection for Bill Blass, the bankrupt company's most recent.



Biba. Again.
Beyond Biba documentary poster via FashionTribes



You're Hired!
Jil Sander has the unusual distinction of having been fired from her namesake label by its new owners not once, but twice. After being told her services were no longer required by Prada group owner Patrizio Bertelli for the second time, in 2004, the German designer began a long period of fashion exile. (Perhaps she had a non-compete clause to abide by.) This year, she was spotted at an industry textiles fair scouting for fabrics — and tongues started wagging. A collaboration with Uniqlo was the surprise result, and Sander's minimalist eye is now employed as the Japanese fast-fashion chain's creative director. Her second +J collection launches in the new year.

Clothing Lines Of The Stars
In 2009, everyone who was anyone got a clothing line. (Or that potentially even more remunerative consolation prize, a namesake perfume.) In the stormy waters of a recession, perhaps it's no surprise that plenty of megabrands would seek the safe harbor of a celebrity and her or his contractually obligated promotional heft.
Not one month after finally shuttering Christian Lacroix, the Falic Group announced the launch of an Eva Longoria perfume. Despite the fact that Longoria is allergic to perfume. Miley & Max Azria did a clothing line for Wal-Mart. Toby Keith sold plaid shirts; he had that much in common with the Kings of Leon. Kevin Federline announced a children's line. Mischa Barton said, of her headband line, "People want to see that you can deliver and do, like, a good job."

Richie Rich rebounded from the 2008 closure of Heatherette with an "eco-friendly" swimwear line he created with Pamela Anderson. (I actually saw the launch of this live, in New Zealand. Richie Rich rollerskated, and the runway show concluded with Anderson, clad only in a scarf, accidentally flashing the audience during her bow.) Brad and Angelina did a serpentine collection for the jewelers Asprey. It started at $525, for a baby spoon.


Whitney Port tried to get Bergdorf Goodman to buy her clothing line in the finale of The City. The Olsen twins, after a couple years hitting the top of the market with The Row and Elizabeth and James, returned to their mass tween roots with a JC Penney's collection called Olsenboye. Emma Watson said the idea of a perfume named after her made her want to vomit, but did an ethical clothing collection with People Tree. (Mischa's other line, Tree People, sadly remains hotly anticipated, at least by me.) Katie Holmes released weird jumpsuits with stylist Jeanne Yang under the label Holmes & Yang.

And I leave you with news of the strangest star collaboration of all 2009: the announcement, in June, that John Malkovich would show a line called Technobohemian at Milan's men's wear week. We may not be John Malkovich, but we can dress like him.
What will 2010 bring? This was the year of huge falls in sales and constant readjustments; 2010's shocks, coming after this raft of closures and downsizings and layoffs and consecutive quarters of declining year-on-year results will, hopefully, seem and be modest. Nobody in the fashion industry is out of the woods yet, but perhaps it's not naïve to hope that the rate of attrition should at least slow down.
The rate of stupid celebrity fashion collab debuts, however, is a trend I expect to remain strong. At least Lindsay Lohan's second collection for Ungaro should be worth watching.