Once I hit my 30s my entire body got infinitely more sensitive and prone to irritation. In my teens and 20s I could slather anything on my face, sleep in makeup, or do any kind of skin treatment with few adverse effects. Now, seemingly innocuous potions make me break out in pimples, redness, or worse, hives. I went through a three-month period of stripping every product out and slowly incorporating things back into my routine. A lot of what I use actually comes from reading these product diaries, like my makeup remover and foundation, and with each new post I'll inevitably have multiple tabs of product research going on.

Morning
I am not a morning person so everything done in the morning hours needs to be super streamlined if I'm going to stick to any personal care regimen. I'm up between 8 and 8:30, check my work emails and Slack before popping out my retainer and brushing my teeth with Sensodyne Extra Whitening. I get a bad reaction to sodium lauryl sulfate, which is in a lot of toothpastes, so I stick with what I know works. I wash my face with only water in the morning, then apply two different acne topicals, Finacea (a 15% azaleic acid) and Aczone (5% dapsone), and follow that up with sunscreen.
Sunscreen has been a JOURNEY. This is one product that can really trigger my skin. I've tried dozens of brands and formulations and concluded that mineral sunscreens clog my pores and make me break out like nothing else, so gimme chemicals all the way! During the winter I use Origins Plantscription SPF 25 Anti-Aging Oil-Free Cream.
G/O Media may get a commission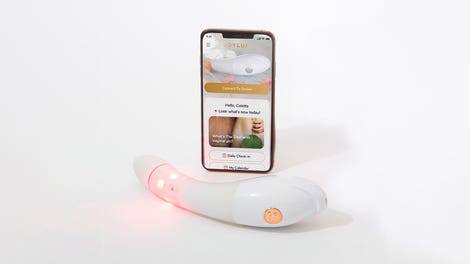 $50 Off
Joylux vFit Gold Device
My tear ducts are fucked and my eyes are always watery. I spent a lot of my life convincing people that I was not in fact, super emotional and crying all the time. I am an emotionless ice cube. Luckily wearing contacts has helped purposely dry my eyes out but all my eye makeup needs to be waterproof, which definitely limits what products I can use.So for my usual routine, I apply two coats of L'Oreal Voluminous Million Lashes mascara in Blackest Black, the waterproof kind obviously. Then I spot fill in my brows with MAC Pro Longwear Eyeliner in Rich Experience before combing through them with the same mascara. Next I apply MAC Pro Longwear Paint Pot in Constructivist on my lids with a Sonia Kashuk concealer brush—I have to admit here, this paint pot is really old. I recently wanted to act like an adult and get a new one but the saleswoman at MAC told me they discontinued the color two years ago...eeeeee. I'm gonna keep using it until I find a suitable dupe, currently thinking about the Chanel Longwear Cream Eyeshadow in Silver Pink, which looks neither silver or pink. Has anyone tried this? Is it any good? Lastly on my eyes, I line them with the same MAC eyeliner I use on my brows.

Next I use Lancome Teint Idole Ultra Wear Camouflage Corrector in Peach for my undereyes and on any blemishes. Often times I just stop here but if I feel like putting in more effort, I'll apply some Giorgio Armani Luminous Silk Foundation in shade 5.75 on my face and Fenty Match Stix in Yacht Lyfe on my cheeks, blending them with my fingers. Sometimes I'll brush Guerlain Meteorites Illuminating Powder in Medium on my face with a powder brush for no other reason than needing to justify buying such an expensive product that doesn't do anything except make me feel fancy. I use Dior Lip Glow in Berry because it's a nice middle ground between lip color and a balm.
For hair, I'm a wash and go kind of girl. I go to bed with my hair damp because I like the natural wave that comes out and however it falls when i wake up is how it stays. If I need a little texture or oomph I'll use Sebastian Matte Putty on the ends or R+Co Sail Spray throughout. I don't brush my hair, ever.
Afternoon
I don't bother with any kind of touchups and the only thing I really do in the afternoons is floss. I'm obsessed with flossing and strictly use Glide Pro Health Deep Clean floss. I buy this in bulk and store them everywhere and if there's any product I stan for, it's this. I was never good about flossing early on but one day decided to convince myself that was it wonderful, there was nothing better. I don't know how that mental trick worked but it did and I legit love doing it now.


Night
I'm a night shower person because I love the feeling of getting into bed fresh and clean. I wash with Dove Dermacare Scalp Shampoo and put John Frieda Luxurious Volume Conditioner on my ends. Some shampoos really irritate my scalp over time; dandruff shampoo is a safer bet so I keep using it. I like bar soap and buy fancy ones as souvenirs for myself when I travel. I'm currently using a mint and rose bar I bought in Beacon, New York, along with one of those scrubby towels to exfoliate. Last step of my shower is washing my face, I'm using Neutrogena Hydro Boost Exfoliating Cleanser right now. I don't love it and feel like it does nothing for me but I hate wasting product; won't be re-buying this once I run out.
My skin gets super dry in the winter and I'm bad at moisturizing anything but my face so I'm making a conscious effort to moisturize everywhere when I get out of the shower. There's something about the act of rubbing cream or lotion all over myself that seems like a chore I can't be bothered to do. Right now I'm using CeraVe Moisturizing Cream, which is good so far, but if I'm being lazy I'll just spray Rosewater & Glycerin from Heritage Store all over. If I'm not showering at night, I remove my makeup with Garnier Micellar Cleansing Water for waterproof makeup to get my mascara and what's left of my shadow and liner off. Then I wash my face with Cetaphil Gentle Skin Cleanser using a muslin cloth. I love, love these cloths because they get my skin really clean, the light scratchiness helps exfoliate, and they are so cheap to buy in a pack that I drop them in with my laundry after each use and have a stash of fresh ones at the ready. I bought them after reading that Carole Radziwill swears by facial washcloths and going down an Internet hole. She's not even one of my favorite Housewives but I gotta give it to her for this one. I got them online from a retailer I'm trying to avoid in favor of brick and mortar, they're sold as baby washcloths.
I brush my teeth and put my retainer in. I spent a lot of money on Invisalign a year ago and I'm not risking messing all that up so I'm pretty religious about wearing the retainer. I go back to the acne topicals and then slather on Weleda Skin Food, another product I picked up from reading these product diaries, all over my face, neck and the back of my hands. I don't really like the smell but it makes my skin feel soft and amazing. Sometimes I use Drunk Elephant C-Tango Multivitamin Eye Cream but I'm partially in camp Eye Cream is a Lie and I don't plan on re-buying this product either. Lastly, I generously slather on Vaseline Lip Therapy on my lips while I get into bed to scroll through dumb shit on my phone before falling asleep.