How does a celebrity keep a fading, potentially unflattering story about digital manipulation alive? She gets her legal counsel to intervene with a stern missive to bloggers that, like many women's magazine images, bears little to no resemblance to reality.


Last week, we received a 4-page legal letter from the law firm Lavely & Singer - which represents actress Demi Moore - regarding a post in early November that pointed out a striking (and, frankly, hilarious) oddity on a recent magazine cover (above) featuring Ms. Moore.
(Click on thumbnails to enlarge)

To recap: On November 9, Jezebel posted a peek at the just-released W magazine cover of Ms. Moore, and an eagle-eyed reader pointed out that the actress' left thigh looked strangely situated in relation to the draping of the Balmain leotard around it. Photoshopping was suspected, and questioned, in a follow-up post two days later. Then, the story went wide, with media watchers like Xeni Jardin at BoingBoing, photographer Anthony Citrano, and Ms. Moore herself weighing in. (Mr. Citrano, who apparently got the same letter we did, has just posted a rebuttal...complete with YouTube videos. It's worth checking out.) One individual even went as far as to assert that Ms. Moore's head was simply plunked on the body of a runway model wearing the Balmain design on October 1, a theory we rejected. Now, a little over four weeks later, lawyers have, inexplicably - hilariously - become involved. From their letter:
"My client's hip, waist or legs were not altered, retouched, or photoshopped for the cover image…. False claims or insinuations that she secretly uses extraordinary artificial means to alter her appearance are extremely damaging. My client's reputation has been tarnished by false statements or implications that she desired or required that her appearance be digitally slenderized by altering the appearance of her hip for the magazine's cover, and that she lied to the public about it."
G/O Media may get a commission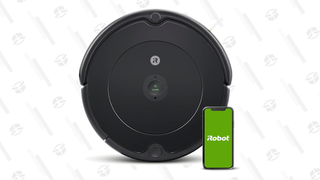 35% Off Black Friday Deal
iRobot Roomba 694 Robot Vacuum
Lavely & Singer's correspondence to us also includes supporting letters from W magazine creative director Dennis Freedman and the magazine's cover photographers, Mert Alas and Marcus Piggot. Freedman claims that absolutely no retouching was done to the photograph. (Oh-kay.) Mert and Marcus write (somewhat excitedly):
"When we have met Demi for W cover story she was super fit to start with! The choice of dress also gave her a catwalk model like silhouette!... There was ABSOLUTELY no retouching on her hips or waist or legs!!"
Demi Moore herself and her publicist, Stephen Huvane, are also copied on the Lavely & Singer letter. (We'd like to point out that, the time of our initial coverage, we contacted both Huvane and W for comment. Mr. Huvane didn't get back to us, but W did, and we quoted their denial.)
In addition to accusing this site (and others) of falsely claiming that Demi Moore "secretly uses extraordinary artificial means to alter her appearance," Lavely & Singer are demanding we issue both a retraction an an apology. As those who actually read our posts know, at no point did we say or imply that Demi Moore demanded, "desired" or "required" that she be "slenderized." Nor did we accuse her of lying about it. Instead, we quoted her Tweeted denials and a skeptical, professional photographer's challenge of them. That said, we would like to take this opportunity to sincerely apologize if we cast aspersions on, or in any way hurt the feelings of Ms. Moore's left hip, waist, or legs. Our only intention was to call attention to distorted and disturbing-looking magazine covers... and the editors, photographers, art directors and retouchers who commission and create them.



Earlier: The Curious Case Of Demi Moore's Left Hip
Demi Moore Posts Original W Cover Photo
Was Demi Moore Photoshopped Onto Model's Body For W? Not Likely.
Photographer Bets $5,000 On Demi Moore W Cover Retouching
Related: Demi Moore's Hip, And Handling The Truth [Zigzaglens]
Was Demi Moore Ralph-Laurenized On "W" Mag Cover, With Missing Hip-Flesh? [BoingBoing]
Demi Claims missing Hipflesh Is For Real. But $5,000 Says It's Moore Photoshopping [BoingBoing]