We were really, really excited when we heard about Libertine being the next designers for Target's GO International Collection. I mean, not Proenza Schouler excited, but more than Patrick Robinson apathetic. So imagine our disappointment when we got a gander at the look book, as posted on Target.com today. Actually, "disappointed" is not really the word. We're offended by this stuff. (Well, offended, or grateful for the easy laugh). If we had any ambitions of esoteric fashion-writing, the only mildly pretentious label we could slap on this would be "freak show anti-chic". More heinous circus-performer wear, after the jump.
The skull-print argyle vest? Not fashion forward. Not even average-folk relevant. It's as if the women behind Libertine got stoned and bored while sketching and fused the a hipster skull with a poor man's prep green-and-argyle. Even WASP mecca J. Crew does ironic better than this.
It's a bird? It's a plane? It's a bolero? It's a cape? We have no idea what the fuck it is, but we don't know whether to laugh or cry to see it paired with (wait for it!) AN ARMY GREEN CARGO PANT! A cargo pant with a BUNCHED ANKLE!
G/O Media may get a commission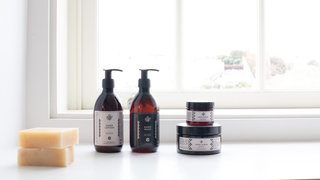 Exfoliate and Hydrate
The Handmade Soap Company
Wow. We would've never thought to put a swirly-stripe blouse with a pussy bow (seriously that's what it's called — look it up in your fashion dictionary) with a matching swirly-stripe pant and Sgt. Pepper's blazer. It's Garanimals on acid!
The last person we saw wearing a cropped blazer with shorts was Mariah Carey. Draw your own conclusions.
There's a huge difference between a slip and a slip dress. A huge difference that seems to have evaded the Libertine girls...
We'd make some nasty comment about the color combinations and proportions on this one, but we burned our retinas looking at it so we're going to go lie down now.
Libertine for Go. International [Target]