Jimmy Fallon seems to have the magic touch when it comes to getting celebrities to do absolutely outrageous things. For example, getting Hunger Games hunk Liam Hemsworth to throw on a pair of veritable FMPs and try them out.
They both seemed pretty comfortable walking in the shoes (not that those heels were very tall). Also, will someone please find/create a Tumblr that's celebrity dudes in high heels? I mean, if we're gonna photoshop teeth out of celebrity pics, we may as start photoshopping in some pumps.
---
This red carpet interview with Gael García Bernal is both refreshing and sad. At the premier for his movie Rosewater, interviewer Dena Takruri asked Bernal about his thoughts on the 43 missing students in Guerrero, Mexico, presumed to have been killed. He talks about how important the issue is, how the whole premiere is a farce in comparison to the students, and how a red carpet interview is not going to solve anything. I also enjoy how much it bothers him to be referred to as a "heartthrob." [ONTD]
---
Richard Simmons' friends are very concerned about him because he has pretty much been M.I.A. since about March. Sources say that Simmons has a knee injury which sent him into a depressive mood and caused him to become a bit of a recluse. Simmons has resurfaced to say that he's alright, but friends are still concerned. [TMZ]
G/O Media may get a commission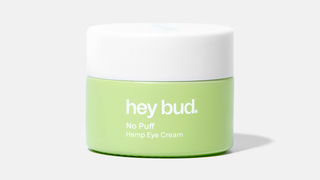 15% off
Hey Bud - No Puff Hemp Eye Cream
---
Some fodder for your fave Harry Potter slashfic fantasy: Tom Felton and Rupert Grint have a tight bromance and prank each other all the time. Felton decided to show up to Grint's performance in "It's Only a Play" in disguise and try to take a selfie with him afterwards. And a fan was lucky enough to capture the outfit.
Brilliant. [ Page Six]
---
A crucial American Horror Story: Freak Show script detailing has been stolen. WE ARE ON A CODE RED SPOILER ALERT ALERT HERE. [TMZ]
Usher insists we have not seen the best of Justin Bieber. I insist I've certainly seen enough. [Just Jared]
Solange is most likely getting married to her fiancé Alan Ferguson today—the two rented out a movie theatre for a pre-wedding bash, where guests watched Diana Ross' 1975 movie Mahogany. [US Magazine]
Kim Kardashian and Kanye West have baby North on an organic diet that contains zero processed food and zero sugar, which sounds healthy but probably explains that adorable scowl she sports. [Radar Online]
Evan Rachel Wood and Katherine Moennig have gone their separate ways. [US Magazine]
Adele will not be joining Bob Geldof, One Direction, Rita Ora and others in the Band Aid remake of "Do They Know It's Christmas?" Sam Smith, however, will be because apparently, people still think he's a backup Adele. [ONTD]
It's Taylor Swift lip-syncing to that one Taylor Swift song. [Just Jared]