I have what is rapidly becoming a well-documented obsession with Levi Johnston's manager/friend/companion Tank Jones. Renata Espinosa's Daily Beast piece, which goes behind the scenes of their bromance does nothing to quell it. Oh, and she asks Levi about Letterman.
She goes bargain shopping with them in L.A. after meeting them at an event, and I remain smitten with Tank — just like many women in L.A. are (and not just the two he blew kisses at in the TMZ video). She says:

Besides acting as Levi's handler, Tank is his personal Tim Gunn and Henry Higgins all in one, instructing him on the subtleties of wearing a fedora and reminding him to be open-minded about the different types of people he might encounter. Tank is the ultimate 21st-century version of an American father: multicultural and media-savvy.
Somehow, I don't associate Tank with my dad, who is neither multicultural nor media savvy and probably doesn't know how to wear a fedora — though he did help teach me open-mindedness.
But maybe Espinosa equates Tank with Tim Gunn because he's such a clothes horse?

Tank's huge array of wardrobe options-his suits are custom-made for him by a tailor in Hong Kong and he estimates that he owns around 100 pairs of shoes-baffles Levi, who says he has 10 pairs of shoes and wears "like, two of them."

"I have different watches and rings that go with the outfits, too," says Tank. "Like when I have a blue suit on, I have a blue ring and a blue watch."
G/O Media may get a commission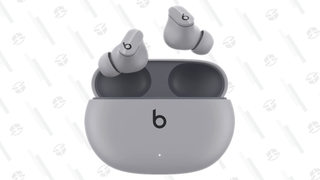 Tank and I are obviously kindred spirits in the shoe department, I admit.
And, like the rest of us, Tank would like to see Levi do something more with his look than jeans, work pants and flannels.

"Levi has his own style, and it works for him," says Tank. "But, if he's going to go into the entertainment field, he has to be versatile. That's one of the things I want him to start seeing-feeling those colors, and feeling those textures. That's a lot for him, especially when you're used to doing something a certain way."
I have some colors and textures Tank could feel, that's for certain.
Espinosa even gets pictures of Tank dancing with an Israeli shopkeeper to some music on in the background of her shop.

"Hold this," says Tank to Levi, handing him his hot dog. "Let me work this." Israeli music plays over the loudspeakers as Tank pays for his purchase. "I want to see the dance of your culture," says Tank to Dahan, motioning to her to come out from behind the counter to dance, and she enthusiastically obliges. As Tank leaves the store, he turns to Levi and says, "I just love meeting different people."
Oh, hells yeah.
Espinosa also asks Levi about Letterman's Bristol-A-Rod joke.

Levi, for the record, thought the joke was in poor taste, but he gets that Letterman is just a comedian. "I don't think he was trying to be malicious," he told The Daily Beast. "I just think the joke maybe went too far. I don't think that David was trying to advocate any sexual misconduct of any nature."

Whether or not the joke was funny or ill-conceived, though, Levi was mostly concerned about how it affected Bristol and Willow. "I don't like to see anybody hurt, especially if it got to the girls and their feelings were hurt," he said. "[The media] has said a million things about me and my family, and sometimes you have to take things with a grain of salt. But in this instance, things went a little too far."
Levi seems like a decent enough kid, but, really, men are always going to be more interesting. So can we talk some more about Tank now?
Shopping with Levi Johnston [Daily Beast]
Related: Levi Johnston Practices Unsafe SPF [TMZ]
Earlier: Levi Johnston Is Everyone's First Boyfriend
Levi Johnston Bares Nothing In L.A.