When it comes to Levi Johnston, Alaska's most infamous baby daddy, one doesn't exactly expect grade A judgment, but today he managed to shock us all by announcing that he plans to name his forthcoming daughter Breeze Beretta Johnston. Seriously? Yes, and it is Beretta, as in the gun—it's not some family name. So is it really a great idea to name an innocent child after a firearm? Probably not, but a bizarre name may not be this child's only problem, given Levi's track record in the life choices department.
As for Levi's plans with his currently pregnant girlfriend Sunny Oglesby, is there a shotgun wedding in their future? (Yikes.) No word on that, but Levi does say it will be different this time than it was with Bristol Palin, who is the mother of Levi's son, Tripp. He says with Sunny, "I'm actually in love...not doing it just because we had a kid together." Well, Tripp will surely be happy to read that when he's older. As for Bristol, she says she's "upset" that he's fathered another kid because she worries that Tripp will be teased in school: "I don't want him to go to elementary school with 10 half-siblings. That would really affect him." True, but if he's got Sarah Palin for a grandmother, 10 half-siblings are probably the least of his worries, teasing-wise. [HuffPo]
---
Earlier today, we got the good news that Jessica Simpson had, after lo these many years of pregnancy, delivered unto us a girl child named Maxwell Drew Johnson. Fortunately, thanks to the brilliant work of a forensic artist, we don't have to wait until she grows up to see what she's going to look like. Prepare to recoil as you view this masterpiece of the future Maxwell. From the look of those highlights and pearly whites, the contestants on Toddlers & Tiaras need to watch their backs, because Maxwell has been bred specifically to destroy them. [Radar]
---
G/O Media may get a commission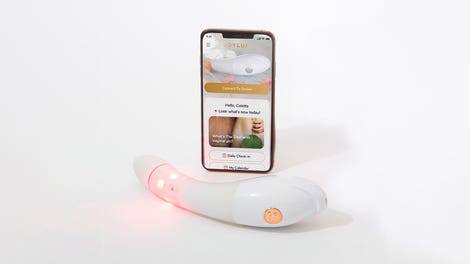 $50 Off
Joylux vFit Gold Device
Serena Williams may be a super successful athlete, but she says she doesn't have the same winning record when it comes to dating. She says her last relationship caused her too much heartbreak, so she's going to turn her focus to the upcoming Olympics instead of trying to win in love: "I just have to remove myself from that atmosphere for about the next decade or so. I can't get involved." If this were a romantic comedy, the moment she swore off love, Mr. Perfect would reveal himself in a quirky way, and they'd fall in love instantly. Then she'd have to try to balance her newfound soulmate with her desire to win at the Olympics. Obviously it would end with them getting married on the tennis court while she wears a gold medal around her neck. [Celebuzz]
---
Beyonce is opening up about her experience giving birth to Blue Ivy Carter™ back in January. She says she was all primped and ready to go—fresh eyebrow wax, mani/pedi, lip gloss applied, etc.—but she didn't feel at all glamorous when giving birth, and she didn't even care because she was busy feeling the mommy power: "I felt more powerful than I've ever felt in my life. I felt connected to my body. I felt like I knew my purpose in the world." [People]
---
Speaking of giving birth, Jenna Fischer, who herself is a new mom, is speaking out against the Hollywood pressure to lose baby weight the minute you've delivered. She said,
Every new mother just gets a free pass. I'm actually angered by the "posing in a bikini six weeks after having my baby" [trend] … Who cares if our boobs are hanging low and we have a little more junk in the trunk? We created a human being, everybody. Let's celebrate!
Well said, Pam Jenna. [Celebuzz]
---