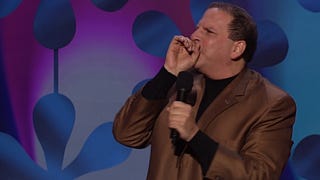 CBS has dropped Eddie Brill as the comedy booker for Late Night after he universally insulted female comedians. Last week the New York Times published a profile on "comedy gatekeeper" Brill—referring to him as "the most influential comic you have never heard of"—who was single-handedly responsible for all of the comedians featured on on the show. So when he had to answer as to why only one woman was booked in 2011, Brill said it was because "[t]here are a lot less female comics who are authentic. I see a lot of female comics who to please an audience will act like men." What? Were they peeing standing up? Getting prostate cancer? Seriously, what the fuck does that mean?
Of course, the "women aren't funny" argument has been made time and time again, and everyone is entitled to their opinion. But as Tina Fey said in her book Bossypants, "It is an impressively arrogant move to conclude that just because you don't like something, it is empirically not good. I don't like Chinese food, but I don't write articles trying to prove it doesn't exist." Sure Brill is allowed to think that women comedians aren't funny, but it was problematic that he was in a position in which he was denying them jobs on principle. That's institutional sexism.
Today it's been reported that Brill will most likely keep his gig as the warmup act for Letterman, but he's been dropped as the booker, not so much because of what he said, but for saying anything at all. CBS' official statement is that Brill was let go for "speaking to the press without authorization."
Letterman's Comedy Booker Gets Replaced After Insulting Women Comedians [Atlantic Wire]
The Comedy Gatekeeper Who Makes Letterman Laugh [NY Times]