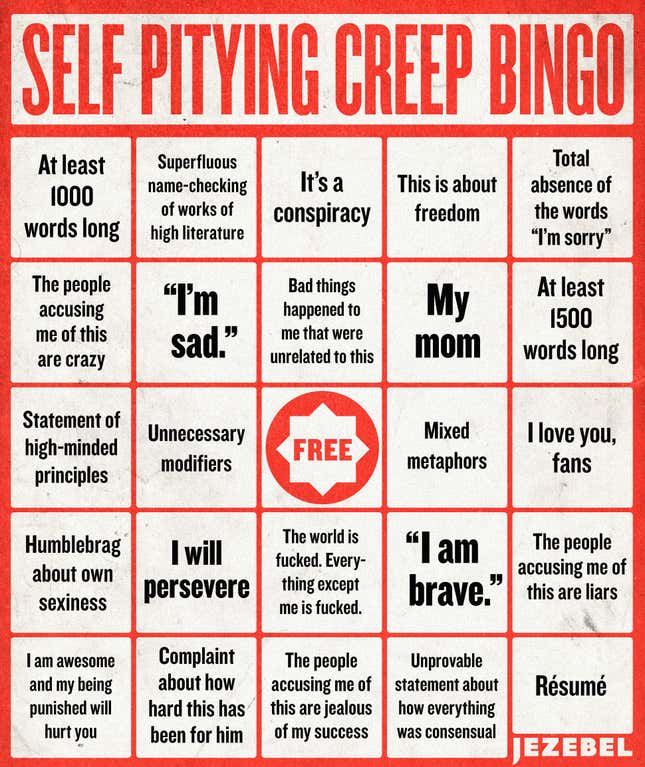 Yesterday, CBC radio host Jian Ghomeshi responded to allegations of sexual misconduct with a long, rambling, self-indulgent non-apology. He's certainly not the first man to do so.
Olivia Holt Didn't Originally Get the Part of Roxie Hart in 'Chicago'
Here at Jezebel, we couldn't help but notice that public statements made by male narcissists accused of a certain flavor of wrongdoing often share several traits. And because we know you like games (who doesn't!?) we've made those predictable traits into a Bingo game. The bigger the loser, the bigger you win! Let's play!
Self-Pitying Creep Bingo is a shareable, printable activity for the gal (or guy!) on the go who finds all of the excuses tired and obnoxious, but who still can't stop themselves from following along, eyeroll after eyeroll. It's an especially useful companion for the self-pitying press conferences, those long-winded Facebook posts, those chest thumping Tweetstorms so stupid they make the backs of your eyeballs hurt a little.
Noteworthy recent examples:
And feel free to add your own!
If you don't get a chance to play with us during this round, don't sweat; a self-pitying man will likely defend his shitty actions soon. And when he does, you'll be ready.
Image by Jim Cooke