Hey, all you engaged ladies out there!!! Now that you've found the love of your life and have tricked him into buying you a conflict diamond, it's time for you to focus on the next step in your life: becoming insufferable, and gradually completely unhinged as you prepare for your big, important Princess Day! Today's installation of Have Your Dream Wedding if it Kills You will focus on the most important aspect of your Big Day: being skinny enough. To test whether you're skinny enough, look at yourself in the mirror. When you turn sideways, do you still appear in the mirror? You're not thin enough to get married. Over-the-top, unhealthy diet time for you!!!
Just when you thought that the wedding-industrial complex had reached Total Bullshit Sauration, a new generation of unhealthy weight loss tools have arrived for eager brides-to-be to embrace for several miserable, stress-filled months, proving that nothing, literally nothing will stand between a bride and fairytale magazine wedding.
This isn't your college friend's Trying to Lose 10 Pounds on the South Beach Diet. This is serious, snake oil salesman, sticking crap into your food tubes, trying to drop serious weight type stuff. In fact, according to an incredibly depressing 2007 study, the average bride wants to lose about 20 pounds before walking down the aisle.
One bride the New York Times interviewed had a feeding tube installed in her nose that would drip dangerously few calories per day into her mouth, because having fat-looking upper arms in photographs is embarrassing, but walking around with a damn tube on your face isn't. Another use prescriptions and shots in order to lose enough weight to fit into her grandmother's wedding dress. Others bought expensive cleanses and subsisted on juice for days, in an attempt to drop lots of weight quickly. Others resort to the "Master Cleanse" which is where instead of food, you just eat your tears with some cayenne pepper for 10 days. Still others pay thousands of doctors to tell them they can only eat 500 calories a day.
Some of this can be blamed on increased visibility and worship of celebrity culture — weddings have evolved from celebrations of family and love to a day of celebration and adoration for the bride. It's not a wedding; it's a woman's chance to walk the red carpet to the rest of her blowjob-free post-marital life.
G/O Media may get a commission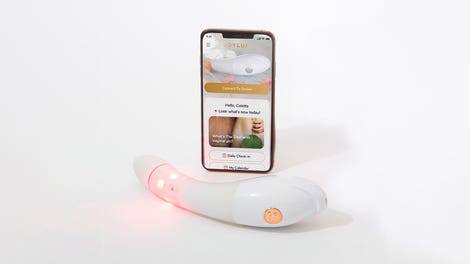 $50 Off
Joylux vFit Gold Device
Doctors, unsurprisingly, aren't super in favor of brides modeling their diets after celebrities. Says Dr. Louis Aronne of New York-Presbyterian/Weill Cornell Medical Center, "Celebrities are not known for doing things that are necessarily the healthiest or most sensible in many parts of their lives. Nutrition should probably be included in that."
Another part of the pre-wedding fat madness can be blamed squarely on the iron fisted rule of the wedding dress. Because dress sizes run small, a woman accustomed to wearing a size 6 may be shocked to discoverer that in Wedding Dress, that might be more like a 10. And because it's much easier to take a dress in than to let a dress out, dress hawkers encourage women to buy dresses that are slightly too big. Another contributing factor to dress freak out: strapless dresses. Whoever invented strapless dresses should probably be shot out of a cannon over a lake filled with lava, because strapless dresses look good on approximately nobody, and yet, most fashionable wedding dresses are strapless.
Reading articles like this one make me concerned that I'm not acting off my rocker enough in the run up to my wedding. Should I be mandating my bridesmaids tan in tandem and work out the same muscle groups to ensure uniformity? Should I have my stomach removed and put on ice with my ovaries? Should I be obsessively Post-It Noting bridal magazines? What about my spine? Does it look too beefy to you? Is there any way I can consolidate my leg meat into one thigh rather than two? A recently married friend was similarly dubious of extreme pre-wedding diets, saying that the last thing she worried about when she got married was whether or not she looked sufficiently sexy for her friends and family.
Although some brides are immune, it seems that for a certain personality type, a bride's instinctive drive to be unnaturally skinny on her Big Day is so strong that it rivals the chemical reactions responsible for heroin addiction or maternal protection. If you encounter a bride attempting to lose weight, do not make eye contact and slowly back away and tell her she looks great. Do not attempt to touch the tube in her face.
Bridal Hunger Games [NYT]