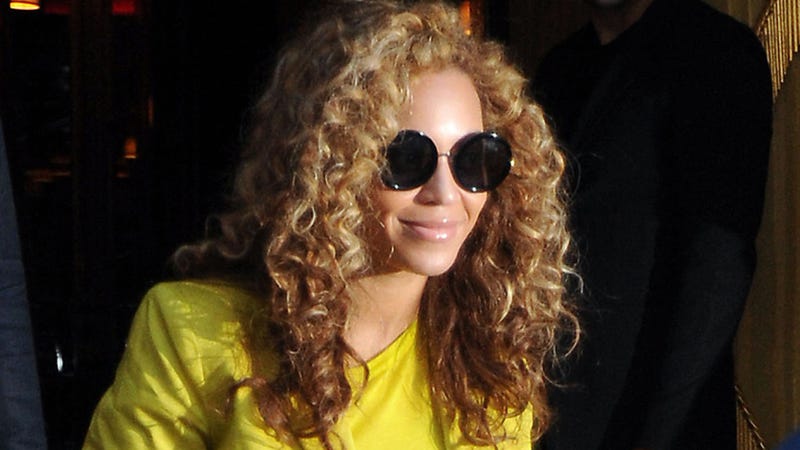 Though she has won 16 Grammy awards and is married to a very high-profile entertainer, Beyoncé remains somewhat of a mystery. To say that she is private doesn't begin to cover it: Sure, lately she's been posting a few images on her Tumblr and Instagram, but it's never very intimate. Other celebs tweet constantly, document every half-naked moment with a smartphone and sell weddings and baby births to magazine covers. Ms. Knowles-Carter plays her cards very close to the chest. But a new project with HBO could shed some light on Bouncy.
According to The Hollywood Reporter, Beyoncé will direct (!!!) and star in a documentary that combines footage from onstage performances with "private behind-the-scenes moments shot by Beyoncé herself."
"HBO has a history of pushing every boundary with class and authenticity," said the 16-time Grammy winner (and mother of Blue Ivy Carter, who turns 1 in January) in a statement. "Some of my favorite shows are on HBO, so I am excited that my film will be part of its bold programming. This film was so personal to me, it had to have the right home."
It makes sense that Beyoncé would only choose to reveal private moments in a project she has control over; she'd have to be somewhat of a control freak to have the kind of intensely secretive life she enjoys. But the good news is that since she's directing, we might actually get a real peek inside, and a true sense of what her life is like. And because it's on HBO, unlike Katy Perrys Part of Me (directed by Dan Cutforth and Jane Lipsitz), it won't be in 3D, thank God.