The London Olympics are wrapping up on Sunday, after 16 days of competition, crying during national anthems, and ill-conceived grill flashing. Let's relive some of the game's most memorable moments with the artistic medium du jour, the gif.
(The one of Serena, above, comes from our brothers at Deadspin.)
---
G/O Media may get a commission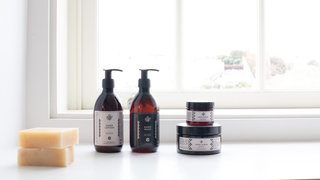 Exfoliate and Hydrate
The Handmade Soap Company
On July 27th — we were all so innocent then — the XXX Olympiad kicked off in London with an Opening Ceremony fit for a parachuting, Bond Girl Queen. We had no idea the giffable treats that awaited us during the days ahead, but everyone was very, very excited.
---
Unfortunately, one of the first memorable moments of the games was noteworthy in its suckiness — South Korean fencer Shin A-Lam lost a berth in the gold medal match to German Britta Heidemann after officials added time to the clock. Because of fencing rules, Shin had to remain on the piste, where she cried in front of a crowd of 8,000 people while the judges considered her coach's appeal, which was eventually rejected. Shin refused to leave and had to be escorted from the arena by security in one of the most controversial moments in the history of modern fencing.
---
The US Women's Gymnastics team kicked some serious ass in London, decisively defeating Russia for the team gold medal. Two nights later, American Gabby Douglas became the first African-American woman to win the individual all-around gold medal, and the first American woman ever to win both team and individual gold in the Olympics. But just because Olympic gymnasts are serious competitors doesn't mean they're not good sports. Here's Russia's fierce Aliya Mustafina and America's Aly Raisman, rivals in competition, congratulating each other during event finals. The thumbs up from Mustafina kills me dead, you guys.
Image via
---
These games marked the first time women were allowed to compete in Olympic boxing, and, despite what some dudes who don't like ladies getting sweaty and hitting each other said, the sport's debut was a rousing success. Ireland's Katie Taylor made her countrymen ecstatic with her victory in the 60kg lightweight division (that's not hyperbole — check out this video of the enormous crowd gathered in her hometown reacting to her victory). But my favorite moment of women's boxing was watching American Claressa Shields losing her shit as she received her gold medal for the middleweight division.
---
On the track the UK's Mo Farah became Britain's first ever gold medalist in the 10,000 meter event, racing one of the most thrilling 25 laps of dudes running at an alarming speed a person could hope to witness. Farah trains in the US with partner Galen Rupp, and the two faced a deep, talented field of distance runners determined to keep the pair off the podium. But their efforts to block Farah and Rupp were unsuccessful; and the pair finished 1-2. Farah's reaction to crossing the finish line, with Rupp in the background, is enough to soften even the hardest, blackest, most Olympic-hating heart.
---
Meanwhile, swimming and diving.
---
The US women's soccer team lost a nailbiter to Japan in the finale of last year's Women's World Cup. This time around, thanks to hard work, an incredible last second goal by Alex Morgan in the semifinal versus Canada and a little OLYMPIC MAGIC, the team found itself once again facing Japan in the finals. And the team's resident Jedi Hope Solo delivered, big time. Gold medal! USA! USA! USA!
---
America's runners did their country proud, with veteran Allyson Felix finally winning her first Olympic gold in the 200 meter event. But the Americans also captured 2 medals in the 200, the 400, the 100 meter hurdles, and the long jump. Other female runners kicked ass in London as well —Ethiopia's Tiki Gelana finished the marathon in a blazing 2:23:07, setting an Olympic record. Russian women took home gold medals in the steeplechase, 400 meter hurdles, and hammerthrow. And — spoiler alert, Team America fans — just this afternoon, the US Women's 4X100 meter relay team shattered a 27-year-old world record when the fantastic foursome of Allyson Felix, Tianna Madison, Bianca Knight and Carmelita Jeter finished the race in only 40.82 seconds. The second place Jamaican sprinters (Shelly-Ann Fraser-Pryce, Sherone Simpson, Veronica Campbell-Brown and Kerron Stewart) finished in 41.41, a national record. The third place Ukrainians also broke their national women's record, which means that men are now officially over.
---
So now, it's almost time to wrap things up in London and rev things up in Rio, the site of the 2016 games. Pause for a second and think about what age you'll be when those happen. Your life is ebbing away in 4 year chunks, drop by Olympian drop. And NBC's Olympic fanfare theme music begins playing ominously in your head.
Anyway, here's hoping that when Rio takes the reins, they handle it at least as well as the Brits did. Because watching a poorly organized sporting event is a lot like watching a poorly executed dive.
Got a favorite Olympic gif? Add it below!