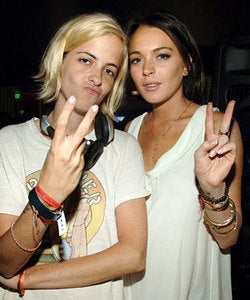 Midweek Madness is usually the lowlight of our week. Today is suuuuuch an exception. Lindsay's Myspace messages of love to Samantha Ronson might have something to do with it.
Lindsay Lohan and Samantha Ronson are totally girlfriend-girlfriend, reports the new issue of Star but Lindsay won't acknowledge it in public for maybe the same reason this amazing story did not make the cover (is that new editor a prude? mass appeal? It's fucking Star, folks, WTF?). Here are the highlights of the star-crossed affair, hacked from Lindsay's private MySpace (Friends: 75. Including Lauren Conrad? Did they meet at a support group for girls who have fucked the worst dudes on the planet? OMG L.C. is totally a lesbian too and Heidi is her Samantha Ronson! The world is all making sense. In that way it does, you know, when you smoke really good weed.)

"Your all I have to live for, babe. I want to marry you and have children with you. I need you to live?"

"I love you. You love me. Why don't we fuck and make a family?

Babe, don't leave me like this. I FUCKING LOVE YOU!"

So Montague-Capulet! Samantha, under the MySpace name "just a tomboy," apparently replied that she would quit the crack if only Lindsay told her she loved her. Um she just did? And then, the tragic moment of matyrdom.
She wrote that while she loved her very much, Lindsay should be with someone else, someone who didn't cause her so much pain and who could help her stay clean and sober.
No, noooo she doesn't! Look at Kate Moss and Pete Doherty! Coke doesn't kill love affiars, people kill love affairs. Esp people who happen to be hot models! TRUE LOVE FINDS A WAY. Until it ends in another tragic game of knifeplay with Vanessa Minnillo?