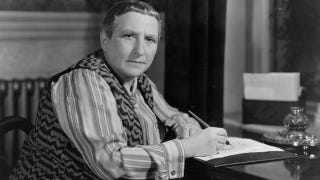 On Sunday, a lesbian couple was kicked out of the Gertrude Stein exhibit at a San Francisco museum for the heinous crime of holding hands.
According to the San Francisco Chronicle, the couple were at SF's Contemporary Jewish Museum when they were accosted by a guard. Says onlooker Jane Levikow, "They were holding hands, and he told them they couldn't hold hands in the museum." When they opined that they damn well could hold hands in a museum, the guard tried to make them leave. The museum has apologized and has asked the private security company that employs the guard to reprimand him. Meanwhile, Levikow points out that trying to kick a lesbian couple of an exhibit on Gertrude Stein is especially ridiculous: "Does anyone see any irony here?"
This isn't the only place where lesbian couples have faced discrimination in the past few months. In June, two women were harassed by a security guard at Minneapolis's Target Field for kissing one another — he told them, "we don't play grab ass here." Apparently many people still feel free to interpret innocent displays of affection as somehow X-rated if the participants are two women. The result: patrons get deprived of their right to enjoy a public place, punished for the "crime" of dating while lesbian.
Guard Cracks Down On Hand-Holding At Stein Exhibit [SF Chronicle]