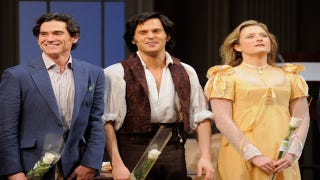 One thing that's so fun about a theatrical red carpet like last night's Arcadia is that people don't use stylists: it's just pure individual style — and the occasional fumble — on people's own terms.
Zoe Lister-Jones reps for downtown mufti.


Zoe Kazan also opts for understated cool.


The palette was definitely muted. Exhibit C? Jessica Collins.


Charity Wakefield fait le smoking.


Ditto Alice Eve, who actually — if inadvertently — matches hair to shoes.


The operative ethos was, like Mamie Gummer, not trying too hard.


Elaine Stritch, a woman who clearly doesn't give a toss, wants a piece of pumpkin bread.