Let's face it — you already know everything you need to know about Leatherheads: George Clooney, John Krasinski (left), Renee Zellweger. And all three of the film's stars looked hot at the movie's premiere last night in L.A. (Also, George Clooney's parents are the cutest people ever.) And though, Fran Drescher's [cough cough] date scared the living daylights out of me, Rick Schroder was there. And Cindy Crawford! The full Good, Bad, and Ugly, after the jump.
The Good:
Renee Zellweger's face scares me. But her dress sure is pretty.
G/O Media may get a commission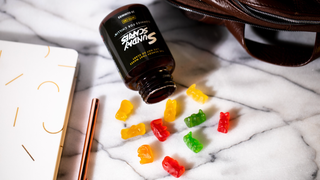 10mg CBD Gummies (22-Count)
Nom nom George Clooney. No comment, Sarah Larson.
Dear Mr. and Mrs. Clooney: You done good.
You know how I don't like jeans on the red carpet? One exception: The pregnant.
It's Rick Schroder. And Rick Schroder's son, who looks just like... Rick Schroder.
Gorgeous Goran Visnjic and wife!
The Bad:
Cindy Crawford looks fierce and all, but her dress seems a little dated, no?
Why does Jenna Fischer look so uncomfortable?
Adrienne Frantz looks like she's ready to baby-sit.
Oh, Nancy O'Dell: Let's not forget that you picked Project Runway's Wendy Pepper Season 1 to design your 2005 Grammy Awards dress.
The Ugly:
Who is this man with Fran Drescher? And why did no one pull him out of the tanning booth sooner?
[Los Angeles, March 31. Images via Bauer-Griffin]