Pro-democracy leader Aung San Suu Kyi has been convicted of violating the terms of her house arrest and has been sentenced to a further eighteen months. International leaders, including U.S. Secretary of State Hillary Clinton, have condemned the verdict.
Suu Kyi, 64, has been held under house arrest by the Myanmar government for 14 of the past 20 years. She was first detained following the last democratic elections held in Myanmar in 1990, which Suu Kyi's National League for Democracy won by a landslide. Suu Kyi has been told she is free to leave the country, which would end her imprisonment, yet if she does so, she will not be allowed reentry. She has chosen to stay in Myanmar, confined to her house in Rangoon, and retain her status as the leader of the National League for Democracy.
Suu Kyi went on trial in May with two of her companions for offering shelter to an uninvited visitor. John Yettaw, a 53-year-old American from Missouri, swam across a Yangon lake to reach Suu Kyi's residence on May 4th, supposedly to warn her of a dream he had, which showed Suu Kyi's assassination. Although she asked him to leave upon his arrival, Suu Kyi decided to allow Yettaw to stay at overnight her house while he recuperated from exhaustion. Suu Kyi was initially sentenced to three years in prison for harboring Yettaw, but the court immediately converted her sentence to eighteen months to be served inside the walls of her own home.
Her lawyers said Suu Kyi had anticipated the guilty verdict, and had been collecting a library of books to see her through a long prison sentence. Her low expectations were shared by other members of the Burmese legal system. "The court proceedings were just a sham," said one lawyer who works in Yangon. "From the beginning, she was predestined" to lose, he said. Yettaw, also on trial for immigration violations and swimming in a restricted area, was given a prison term of up to seven years, including four years of hard labor.
The sentencing of Suu Kyi has been condemned as an overt attempt by Myanmar's military junta to keep her out of the controversial elections planned for next year. Advocacy groups have been quick to voice their displeasure with the ruling. The Assistance Association for Political Prisoners, has called the decision "yet another travesty of justice," and the Human Rights Watch has deemed it "a reprehensible abuse of power." The Wall Street Journal reports,
The U.S. Campaign for Burma, a Washington, D.C. advocacy group, blasted "the military regime's kangaroo court system" and called for a global arms embargo, an investigation into crimes against humanity in the country, and further steps to tighten bank transactions involving members of the military regime.

The verdict "should really make it clear that it's game over – (the junta leaders) have no intention of bringing changes about in their country," said Jeremy Woodrum, a spokesman for the U.S. Campaign for Burma. "We think we need to take some concrete action, now."
G/O Media may get a commission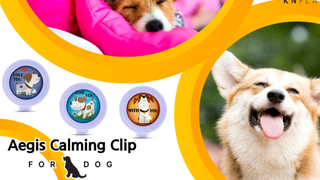 20% off
Aegis Calming Clip for Dogs
The European Union has also demanded the immediate and unconditional release of Suu Kyi, UPI reports. Sweden, current president of the EU, said they are ready for "targeted measures against those responsible for the verdict," and plan to stiffen earlier measures against Myanmar, including an arms export ban, visa restrictions and financial sanctions. According to the New York Times, President Nicolas Sarkozy of France has called the treatment of Suu Kyi "brutal and unjust," and suggests that European sanctions should target profitable industries like timber and ruby mining.
The Guardian reports that British Prime Minister Gordon Brown has said he is "saddened and angry" at the conviction. He continued,
"[The sentence is] further proof that the military regime in Burma was determined to act with total disregard for accepted standards of the rule of law and in defiance of international opinion. This is a purely political sentence designed to prevent her from taking part in the regime's planned elections next year."
Secretary of State Hillary Clinton has spoken out about the sentencing of Suu Kyi, as well as the other 2,000-plus political prisoners being held in Myanmar. "She should not have been tried, and she should not have been convicted. We continue to call for her release," she told reporters in Goma, Congo. Clinton has also asked for the release of Yettew, who suffers from epilepsy and diabetes: "We are concerned about the harsh sentence imposed on him especially in light of his medical condition." She said that if the Myanmar government must begin to address their human rights violations, "otherwise the elections they have scheduled for next year will have absolutely no legitimacy."
Suu Kyi Sentenced To 18 Months House Arrest [WSJ]
Suu Kyi Verdict Widely Condemned [UPI]
Clinton Demands Release Of Aung San Suu Kyi [New York Times]
Aung San Suu Kyi Found Guilty [Times]
Aung San Suu Kyi Found Guilty Of Breaking House Arrest [Guardian]
Clinton: Convicted Of Myanmar's Suu Kyi Wrong [AP]