In January, Katie Couric received a fair amount of criticism for her fixation on the physical part of transgender actress and activist Laverne Cox's transition. On Tuesday, Cox returned to the program and the two discussed what a "teachable" moment their original exchange was.
"The last time you were here – as we've discussed, because I have run into Laverne at various places – I got about a lot of flack because I asked about the physical aspect of the transition process with another guest," said Couric. "I learned it's very very upsetting to the transgender community because they feel that people are too often fixated on this and that your anatomy actually has very little to do with your gender identity."

"That's great, Katie. I so appreciate your willingness to, first of all, have me back to really go into depth to discuss these issues and your willingness to sort of learn out in public," Cox graciously responded, perhaps particularly grateful to be having this conversation with Couric given the interview she sat through the day before with a less learned Wendy Williams.
Cox went on to explain that she wanted to come back on Katie because it opened up "the possibility of modeling how do we have difficult conversations across difference and how to do that and create safe spaces for people on both sides to have the discussions."
G/O Media may get a commission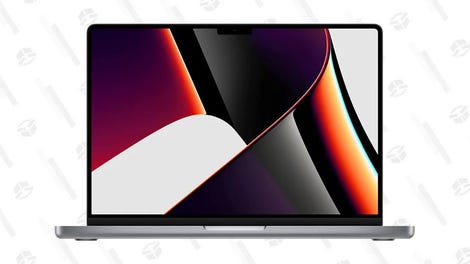 Save $300
2021 14" 1TB MacBook Pro
"I commend you on really being teachable because not everybody is," she added.
Couric admitted that when the first episode aired, she found the criticism "hurtful," particularly because she internalized it. However, "I want to use it as a teachable moment not only for myself but how do we explain what is the appropriate conversation and how do we make people feel if we don't have an example of what you shouldn't do as what you should do," she added.

But as usual, it was Cox who was the real star of the interview. "We have to be able to make mistakes in public," she said, before clarifying that she wasn't even sure if what Couric had done was a mistake. "I heard just recently Heather Thomson say that it's only a mistake if you make it twice. So that then we really can have these moments when people can come in new spaces of consciousness if we allow ourselves to be vulnerable and to maybe not always get it quote-unquote right."
Couric and Cox went on to discuss Cox's documentary about CeCe McDonald and to have a larger conversation about transgender people around the country. There was also much praise to Katie for, in Couric's words, having "consistently created a space here on our program where we have really explored this issue." Considering Katie is currently airing its last episodes, we will have to wait to see if Couric will do the same thing on the video thingamabob she has going at Yahoo. Thus far she's been using that space to explore issues surrounding "global changers" like the CEO of Airbnb.