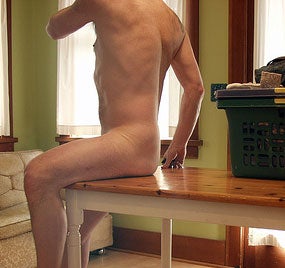 There's this new book out about Porn for Women that depicts guys (like the one at right) doing all sorts of sexy things like vacuuming and offering to take care of the kids, a premise that implies, suffice it to say, about half a gazillion assumptions guaranteed to irritate pretty much every male or female we know who has ever listened to NPR and irritate them in a unique and special way. Whatever. The important question is, does porn get women off? We thought we would take some batteries and some naked pictures of an ironing-and-clothing folding blogger called "Figleaf" into our bedrooms and, since we were already there anyway, see how long it took to get off.
Ew! Well, then we had the thought "this is gross." And then we thought: "Yeah. Gross even for us." But then we realized that porn is something we talk about almost exclusively with guys, and we have no idea what actually gets girls off. So we sent around a mass email to our best friends, most of whom ignored us, except these fine people!:
I use my imagination. I'm supportive of the industry but it doesn't turn me on. Well except guys jizzing on skateboards porn.
And:
I am the opposite of myself when I am using porn; I want to see big tits, preferably fake, no distractingly exotic or pretty faces, no guys. The chubby guys I generally like seem to be underrepresented in porn, which is probably a good thing, since imagining the video version of the guys I like in bed is, er... not actually something that gets me off. I go through phases where I'll use it a lot. I used to really like "Girls Gone Wild" videos but I accidentally enrolled in the DVD of the month club when I bought a membership to their site (drunk! obvs!!) and uh well, bad scene. The DVDs weren't even good; the videos on the site were good. What I try never to ponder is why the girls whose existences my mind knows are everything that is wrong with the culture are the ones that get me off. Miss Nevada. Antonella Barba. And all these tanning-salon college sluts who are interchangable from every other tanning salon college slut and for that matter Barbie... it has to be some childhood shit. Whatever, I refuse to ponder this any longer, you using, brain-raping blogger bitch.
And:
I use porn to jill off. My friend and her BF have a login and password to videobox.com, and shared with me as a "sorry you're single again" gift. And I go in phases in regards to frequency, but I really just always watch 30 seconds of random doggystyle, preferably involving a nice white girl like me and a black man. I mean, those are some big fucking cocks on those guys. Oh, and I hate the screaming and moaning those bitches do. Let me hear the guy enjoying himself for once, please.
And:
I always thought girl porn like Sweet Action was really icky. Like, I'm pretty irked by the assumption that I want to look "real people." I may date guys that look like that, but it's not because they look hot naked. Also I don't want to look at fat or pale chicks. Also I might see them Urban Outfitters later and feel gross. I like my porn people tanned buff and hairless with their anuses bleached, like everyone else.
And:
G and I went to a sex shop a few weeks ago. Actually it was just a bodega and cigar shop but there was a sex shop attached. (Normally you're supposed to pay $1 as cover to go in, but the cashier let us in for free.) I was drunk and I bought a small vibrator and a 1967 issue of Playboy, but I'm afraid to unwrap the plastic, thinking there might be jizz on it. That's the only porn I've ever bought. But I should open it, because there's an article by Maurice Sendack (or is it Shel Silverstein?) in it. I need more of a back story and suspense than regular porn gives, so i just watch foreign films most of the time.
And:
I like videos with guys who have a bit of flab, and hairy chests. For some reason, a pot belly (a small one! not one of those pregnant old-guy bellies!) also turns me on. What I don't like: Fake breasts. Totally hairless women. I've been out of a porn phase for 3 years. I was actually relieved when my vibrator broke.
Uh yeah. Other source of relief: That this post is over!
Rachel Kramer Bussell: Is There Such A Thing As Porn For Women? [Huffington Post]