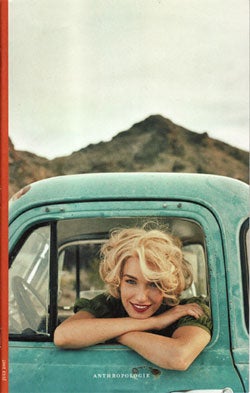 Okay, the last time an Anthropologie catalog came floating through our mailbox slot, we promptly picked it up, salivated a little bit, then promptly threw it across the room. Not today! The new Anthropologie catalog has a little something for every wannabe Rapunzel — er, Marilyn Monroe? What's up with that model's hair, right? — and at prices that are a bit more affordable (if anything in this catalog can be called "affordable") than usual. After the jump, some favorites, including the sweetest 'lil dress, a few pairs of flats, a piece of art we neither have the money nor the room for, and the perfect, shady summer bedroom. (Ugh, do we sound like Lucky magazine? Kill us now!)
This "imprint dress" (bottom) has a great color combination and we're suckers for details like exposed stitching. Not an awful price, either ($188).
Pretty much the perfect catalog page. Up top: A ruby-red bag ("Candy Apple Hobo, $168); two pairs of fetching flats (albeit with not-so-fetching prices: "Pinata flats", $288; "Sunday Best flats", $388.) At bottom: Some cute kids.
Those boots up top ("Make-A-Wish boots, $328) look comfy but we're more taken with the plum-hued "Fish Face Peep Toes" (bottom left, $168).
Maybe we're late to the design-party but we're intrigued by this tulip botanical chart ($498). We'd also love an actual house to live in, but that's a no-brainer.
Yes on the "Mercer Scoopneck" ($58) at top right, and yes again on the "Shadowplay Sweater Dress" (bottom, left, $168).
Can we buy this entire room? Or at least get some of that bedding? ("Windermere Bedding", $48-208)